Carnival tells senator that company will unlikely help pay for recent rescue operations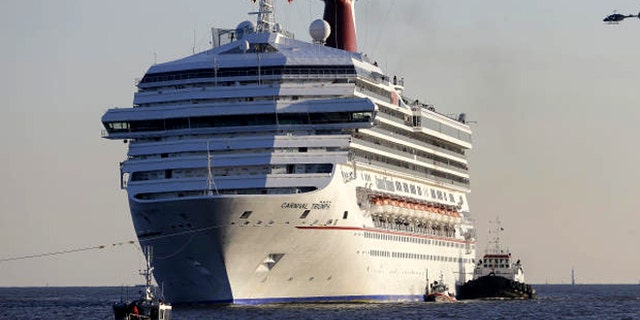 Carnival Corp. has defended its safety record and indicated that it will not likely chip in to help pay for costs incurred in rescue operations associated with the recent incidents of the company's disabled cruise ships.
In a letter dated March 29, but made public Wednesday, James Hunn, senior vice president of corporate maritime policy for Carnival, wrote:
"Carnival has an excellent safety record throughout its 41-year history," noting that the company is undergoing a safety review of its entire fleet following the fire aboard the Carnival Triumph in February, where some 3,100 passengers were stranded for days after an engine room fire left the cruise ship stranded at sea.
Hunn's letter was in response to questions from Sen. Jay Rockefeller (D-WV), the chairman of the U.S. Senate Committee on Commerce, Science and Transportation who sent a letter last month to Carnival CEO Micky Arison claiming that the U.S. Coast Guard responded to 90 "serious events" involving Carnival ships over five years. Rockefeller says the Coast Guard and Navy had paid up $4.2 million in rescue costs for the Triumph and the Splendor, disabled in 2010 by another engine room fire.
The senator pointed out that Carnival, although headquartered in Miami, is incorporated in Panama and is not subject to U.S. labor wage laws. Rockefeller asked whether Carnival, since it pays "little or nothing in federal taxes," will reimburse the Coast Guard and Navy.
Carnival didn't give a clear yes or no answer, but Hunn replied:
"Carnival's policy is to honor maritime tradition that holds that the duty to render assistance at sea to those in need is a universal obligation of the entire maritime community."
Under U.S. law, cruise lines are not obligated to pay the Coast Guard or other U.S. federal agencies for rescue services for a foreign flagged ship back to an American port.
Hunn also disputed Rockefeller's claim of 90 serious Carnival events at sea, saying 83 of the 90 events did not meet the definition of a serious marine incident as defined by the Code of Federal Regulations and did not require U.S. Coast Guard intervention. Of the serious incidents Hunn noted were the Triumph and Splendor fires and the capsizing of the Costa Concordia in 2012.
Rockefeller, in response to Hunn's written response, expressed his anger. "Carnival's response to my detailed inquiry is shameful," in a letter obtained by Skift. "It is indisputable that Carnival passengers deserve better emergency response measures than they experienced on the Triumph. I am considering all options to hold the industry to higher passenger safety standards."
This is the latest in a string of efforts by Rockefeller and Sen. Charles Schumer (D-NY) to turn up the heat on Carnival and the cruise industry as a whole. The senators have been pushing the Cruise Lines International Association to voluntary accept a cruise passengers bill of rights to guarantee passengers certain protections while aboard cruise ships.