9 ways to save money and keep a cool head when flying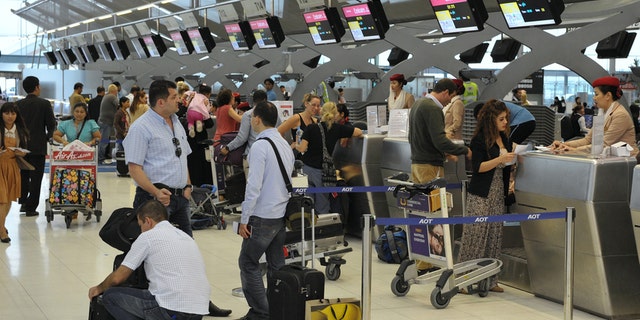 From long security lines to cramped cabins to rude passengers, there's a lot to complain about when it comes to flying in economy today. Here's how to make the experience at least a bit more tolerable.
1. Score the Best Seats
Start checking for available seats 72 hours before departure. That's when airlines may start releasing those that were earlier reserved for people who have been upgraded or have canceled, which means you might be able to select a plum spot—without having to pay extra for it.
Consult the SeatGuru website for seating maps of most airlines' planes, including seat pitch and width. Green seats have more room; yellow seats have at least one drawback (such as no window, limited recline or leg room, or proximity to a galley or restroom); red seats have multiple drawbacks. (Find out how much passengers feel the squeeze.)
More From Consumer Reports
2. Board Early and Save on Baggage Fees
Checking just one bag could cost you $36 to $200 round-trip. Making do with a carry-on is an obvious way to avoid bag fees—unless you're flying on Allegiant, Frontier, or Spirit, which charge for carry-on bags.
If traveling light isn't an option, consider signing up for one of the airline credit cards that might offer benefits like free checked bags, early boarding, and discounts on food and beverages. American's AAdvantage Platinum Select MasterCard, Gold Delta SkyMiles from American Express, and United MileagePlus Explorer Card, for instance, all have annual fees less than $100. (Learn about Consumer Reports' Credit Card Adviser Comparison Tool, which will help you choose cash-back credit cards customized for your spending habits.)

3. Speed Through Security
Flyers who have registered with TSA PreCheck enjoy expedited screening at more than 180 U.S. airports, saving time and stress. The Transportation Security Administration says that 95 percent of the people going through the pre-check line waited 5 minutes or less in June. Another perk: PreCheck participants are not required to take off their shoes, jackets, or belts, or remove laptops or bottles with liquids from their bags. The cost is $85 for five years. You can start your enrollment online, then complete it by making an appointment to visit an enrollment center listed on the website.
4. Avoid the Crowds
If you'll be in the airport for more than a few hours, consider splurging for access to a lounge. Most airlines sell day passes to their club lounges even if you're not traveling with them, and companies such as Plaza Premium Lounge, No. 1 Lounge, and The Club Airport Lounge sell passes at their locations around the world. The cost is usually $30 to $59 per person, which, in addition to letting you dodge the airport throngs, gets you free food, beverages, WiFi, showers, and assistance with your travel arrangements. Some airline-­branded credit cards offer discounted or free passes to lounges. American Express Centurion Platinum cardholders (who pay a hefty $450 annual fee) have free membership to its seven U.S. lounges.
5. Minimize Stress
Don't join the mad rush to get on the plane. The less time you spend in line, the better, says Leon James, Ph.D., a professor of psychology at the University of Hawaii who studies air, road, and pedestrian rage. Don't get in line until your section is called, then occupy yourself with a book or a game or a conversation: Research suggests that people who do nothing in line perceive wait times to be longer and more frustrating than those who are distracted.
6. Maximize Comfort
Keeping warm and entertained are necessities for serene travel, James says. Bring along a sweater, a small pillow and blanket (for longer flights), and reading material or audio books, and games. Noise-canceling headphones and eye masks can lend an added sense of calm.
7. Move It
Remaining in a sedentary position for more than 4 hours can increase the risk of developing a dangerous blood clot (known as deep vein thrombosis), according to the Centers for Disease Control and Prevention. Our medical experts suggest walking around the plane every hour, if possible, and periodically raising your heels with your toes on the floor, then raising your toes with your heels on the floor. Drink plenty of fluids, especially water, and avoid alcoholic beverages. Wear loose clothing, and do not sit with your legs crossed.
8. Keep It Clean
Fill an enclosed space with a steady stream of people (many of them coughing and sneezing) and you have the perfect breeding ground for bacteria and viruses.
Research shows that some of the germiest spots on a plane are the seatback tray table, the overhead air vent, the seatback pocket, and the seat-belt buckle. To ease your mind and maybe avoid picking up a bug, wash your hands frequently with soap and hot water, and use alcohol-based wipes on all of those germy surfaces before you touch them, says Marvin M. Lipman, M.D., Consumer Reports' chief medical adviser.
9. Make Sure You're Insured
Travel insurance can cover the cost of your airfare (as well as hotels, tour costs, or cruise fare) if you need to cancel or interrupt a trip because of unexpected events such as personal illness, the illness or death of a relative or travel companion, or some types of severe weather. Travel insurance will generally also cover the cost of belongings that are lost or stolen, emergency medical care, and also offer a death benefit. Premiums average about 5 to 7 percent of the cost of the trip, according to the Insurance Information Institute.
Trip cancellation and other travel insurance is provided as a benefit of some credit cards, and you may be covered for medical treatment and theft under your own health and homeowners policies (if you're traveling overseas, be sure to confirm that your health insurance will cover you abroad). It's always best to be prepared for the unexpected, especially because airlines can take a very hard line regarding their nonrefundable ticket policies.
To review and purchase travel insurance plans, go to an online broker such as InsureMyTrip or Squaremouth, which each sells coverage from 21 carriers.
Passengers Feel the Squeeze
Added seats translate into added revenues. Airlines are packing more of them into their planes by shaving inches from seat width and distance between rows, and even by eliminating some restrooms and galleys from their planes.

Editor's Note: This article also appeared in the October 2016 issue of Consumer Reports magazine.