Days after a roadside bomb in Afghanistan blew off his legs and an arm, Army Staff Sergeant Travis Mills was lying in a military hospital in Germany in excruciating pain. Thinking about his family and all the things he might never do again, the Michigan native considered ending it all.
"I quit," he told a friend, according to his new book about his ordeal "Tough As They Come," which is out on Tuesday.
But Mills – whose other arm was removed a few days after the April 2012 explosion, making him only one of five surviving quadruple amputees from the wars in Iraq and Afghanistan– refused to give into the suicidal thoughts. The phantom pain that he was enduring vanished following an experimental treatment in which he was given large doses of the drug Ketamine and put into a coma.
Related: Prosthetic arm restores paralyzed man's sense of touch
Soon after, Mills was flown from Germany to the Walter Reed National Military Medical Center where he started on a three-year road to recovery that included 13 surgeries and being fitted for a range of prosthetics. He would eventually run a 5K in New York and return again this month on a whirlwind trip to promote his book – all walking under his own power.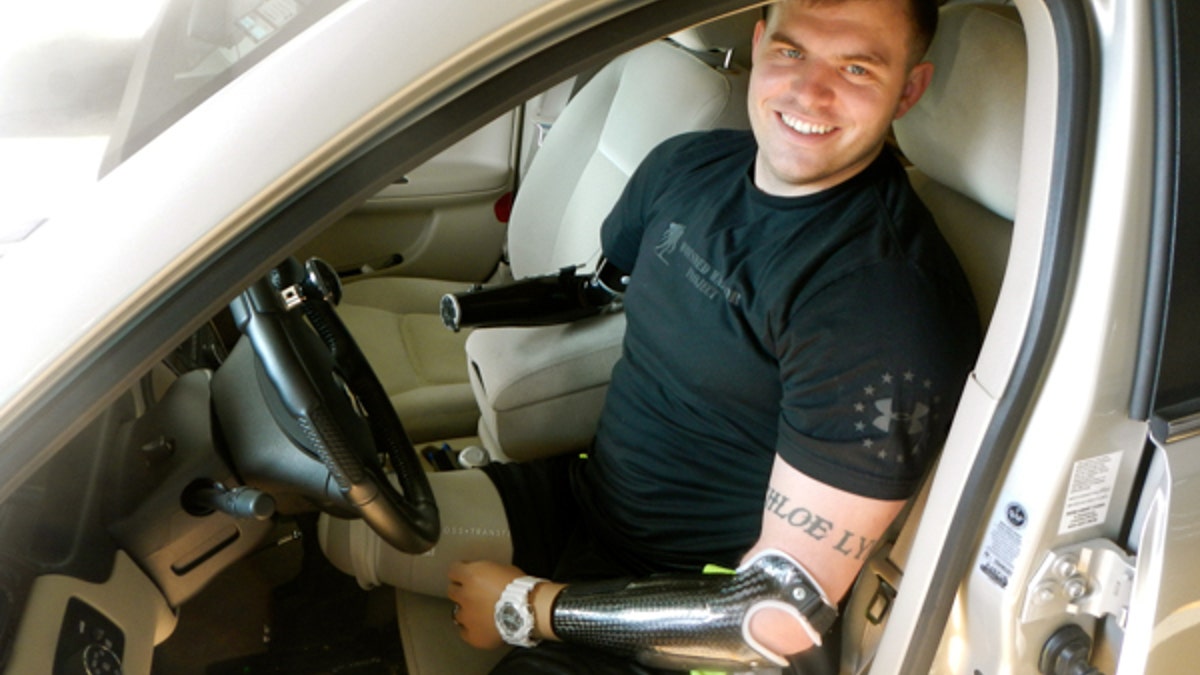 Much of the success of this recalibrated warrior is due to his incredible drive and renewed zest for life. But he also acknowledged that his independence comes down to "breathtaking" advances in prosthetics – which no longer confine amputees to wheel chairs like Tom Cruise's character in "Born on the Fourth of July."
"By the end of World War II, it was plastic stick with a hook on it. Today, we have robotic arms with microprocessors in them and even the possibilities of hand transplants," Mills writes. "The technology is only going to get more advanced from here on out. Scientists are working on being able to regrow limbs in a lab."
Meeting Mills for the first time, it's easy to forget he is missing arms and legs. Already seated, he rises to greet a reporter with a broad smile and just starts talking, joking that he goes by "super good looking or awesome." You don't have time to consider the challenges he faces. He is too busy detailing all the things he can do with artificial limbs – from swimming, to driving, to grabbing that cup of coffee right in front of him on the table.
"Once I'm out the door, I can do anything I want to do. I take my wallet, phone. Wherever I go, I do whatever I need to do," said the 28-year-old Mills, who retired from the military Nov. 22, 2013 and now spends days giving speeches, counseling other veterans and running the Travis Mills Foundation, a nonprofit that works with wounded veterans, with his wife Kelsey.
"I still snowboard. I go tubing. I have a boat," he said. "I go to lunch. No one has to help me. I pull my wallet out and pay for things. I walk on even ground as best I can. I don't have a problem getting around too much. If I fall, I'll get back up. I'm definitely thankful."
Related: 'Bionic model' will strut down New York Fashion Week runway with prosthetic arm
Because he is so active, Mills has 18 different prosthetic arms and legs, many of them designed for specific activities like driving or skiing. Among the most advanced is his Genium X3, which attaches to a socket that goes over the leg. The X3 features a computer that reads the ground and makes as many as 300 adjustments every time Mills moves, allowing him to keep his balance and walk with a natural gait. It also offers five different modes – including one that keeps his knees locked when he drives and another that allows him to quickly shift from walking to running.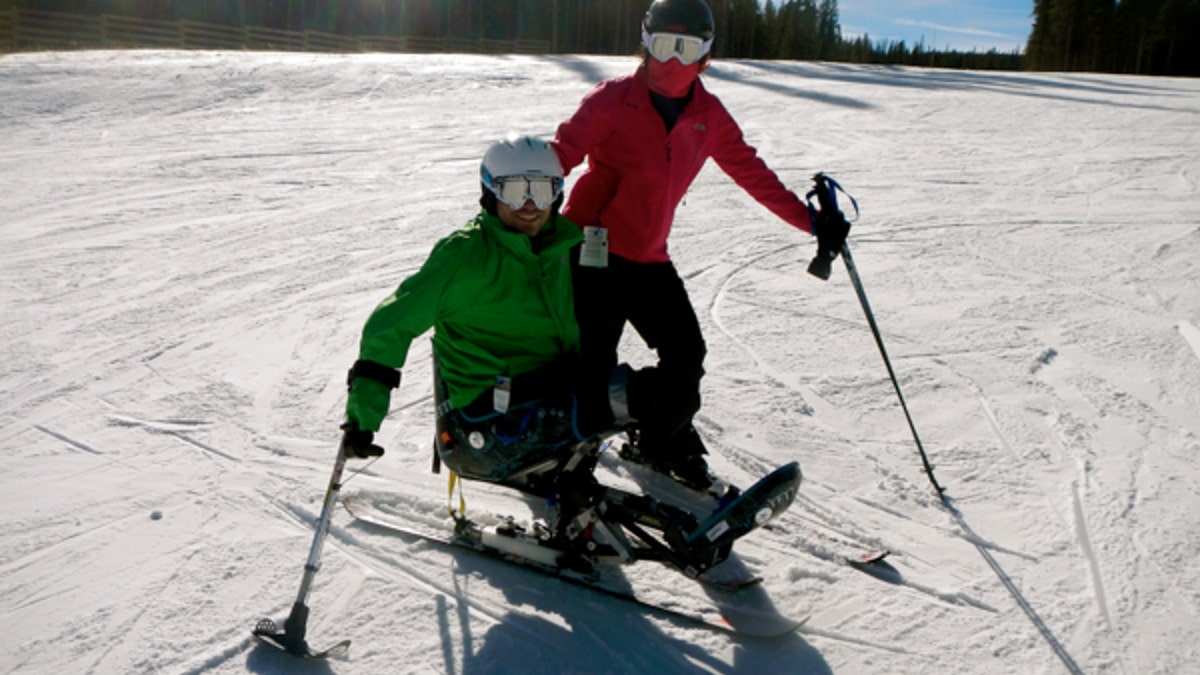 "I'm getting pretty good at it," he said, noting that he drives his 4-year-old daughter, Chloe, to school in the mornings. "My wife trusts me to drive my daughter around so that works."
He also has a set of blades – like those used by Olympian Oscar Pistorius – for running and tiny ones that allow him to snowboard or do CrossFit.
For his arms, technology again has proven critical. While he doesn't have the most advanced model that lets users sense feeling in their artificial fingers, his are myoelectric prosthesis with sensors allowing him control hand movements just by flexing his muscles. He has a range of attachments, from one that looks like a hand to a hook that is less appealing but more practical when it comes to picking things up.
"To Travis, he is still firing the muscle that is in his arm that used to open the hand that is not there," said Matt Albuquerque, president of New Hampshire-based Next Step Bionics and Prosthetics, which has fitted and designed the limbs for Mills and hundreds of other wounded veterans. "Those sensors pick up the muscle contraction and open the hand … I'll tell you, that guy eats and does everything independently. For the most part, he is all independent."
Like Mills, Albuquerque credited a "bionic revolution" with allowing a lot of veterans to regain some semblance of their previous life.
Related: US Marine receives first prosthetic arm controlled by implantable sensors
"These ex-military guys, a lot of them are ex-special forces. They want to get back to that level of doing stuff no matter what it is," he said. "They are incredibly competitive and now they have the technology that allows them to do that with comfort and stability. Those are the two biggest things in their lives – meaning their legs aren't bleeding when they take them off and stable which means I can put my daughter in my hands, walk across the kitchen and know I'm not going to fall."
But Albuquerque acknowledged that the success Mills and others experience is not universal in all wounded veterans.
"There are not a lot of what we would call 'quadrimembral amputees,' meaning they are missing all four limbs," he said of Mills. "He is one of even less that has become fully ambulatory and fully independent. He exerts a lot of energy to walk down the street, much more than you and I. For a lot of people in that position, it would be much easier for them to be in a powered wheelchair."
But even for Mills, there are still things that remain challenging – often small activities that you and I take for granted. Shaving remains difficult as does texting on his iPhone. He still has trouble putting his artificial limbs on by himself and is thinking about giving up on pants with buttons in favor of Velcro.
And because he has no limbs, he heats up easily.
"It's all about adapting to your situation and making it better for you," he said, adding that his house in Maine built by the Gary Sinise Foundation in conjunction with the Stephen Siller Tunnel to Towers Foundation features an elevator, handicapped-accessible bathrooms and smart technology that allows him to control lights and other electronics from his iPad.
Mills also gets through those frustrating moments when things go wrong with his trademark sunny personality and sense of humor – he was known as "Big Mills" in the army for his penchant to lead his troops back to barracks by running ahead, clapping ans singing songs about the 82nd Airborne.
The same skills also serve him well when he comes into contact with strangers who often don't know what to make of this modern $6 million man.
"My thing is 'it's totally cool check this out,'" he said, when someone fumbles for the right words or just stares at him. "I had one kid convinced that I work with Iron Man."
Through his foundation, Mills is trying to pass on the lessons he has learned on his journey and inspire other veterans and victims of bombing with a simple message – you can keep going. He started counseling veterans at Walter Reed and has also talked with victims of the Boston Marathon bombings.
He next challenge is opening a retreat in Maine, where starting in 2017 he hopes to bring than a 100 veterans and their families each summer to enjoy a range of sporting activities and "know they don't have to live life on the sidelines."
"I want them to know they can keep moving. They can still keep going forward," he said. "There are ways to do things with sports and be part of your family's life."