Virtual school choice trending among parents for their children
PHOENIX – The alarm sounds. Students swing their backpacks over their shoulder, board the school bus, make their way to their homeroom and the bell rings—school is back in session. But for more homes in America, back-to-school looks more like waking up, students making their way to…the dining room or home office, setting up a laptop and learning from the comfort of home.
Virtual schooling, defined as "a public school that offers only instruction in which students and teachers are separated by time and/or location, and interaction occurs via computers and/or telecommunications technologies," has increased over the past decade. According to the National Education Policy Center, enrollments in virtual schools increased by 17,000 students between 2015-16 and 2016-17 to 295,518 students.
"This isn't going anywhere," Dr. Kelly Van Sande, Arizona Virtual Academy head of schools, said. "As the school choice movement really takes over our nation and giving parents a voice to say, 'I know what's best for my child—I know what's best for my child to attend a traditional brick-and-mortar school, or to attend a charter school, or an online public charter school, or even to homeschool.' Giving that choice to the parents and making sure that we listen to the parents' voice, as they are the ones that know best for their own child."
MANKIND COULD HAVE 'ELECTRONIC IMMORTALITY' BY 2050
For Arizona Virtual Academy, a full-time online public K-12 charter school, they use K12 Inc. curriculum. K12 serves students in all 50 states and more than 100 countries with digital learning platforms and technology; providing online and blended education.
Students can essentially wake up at home or in another state when traveling with family or for their sport or music interest—open up their laptop and get right to work. There's also a new learning management system for the upcoming school year that makes a more personalized experience for students.
"We always are advancing our platforms and the technology that we utilize to ensure that it's keeping up with the changing trends, not only with education but also with technology, as well," Dr. Van Sande said.
Another piece of new technology they've rolled out is a new app where parents can find virtual schools available in their area. As of 2017, 34 states had full-time virtual schools and 29 states had blended schools, which are hybrid schools that combine online and classroom teaching.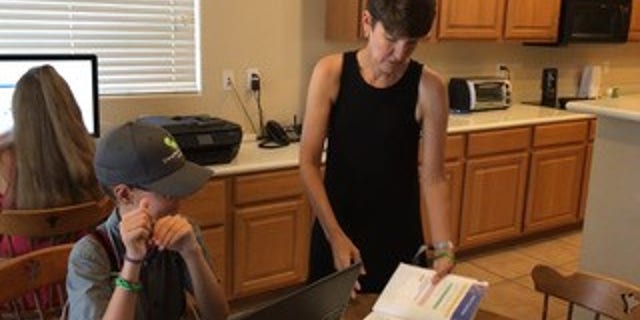 Carrie Faulkner chose to enroll two of her children in Arizona Virtual Academy. She says they've done schooling online in Chicago, California, at restaurants and on her cousin's floor in Kansas.
"It doesn't matter if he's (her son) on the couch, in his bed, at the kitchen table, he can do school wherever he wants to," Faulkner said. "I wish they had it for me back when I was in school. That would've been awesome. I think the kids are just extremely blessed. It's setting them up, they're going to do so great when they have jobs because they will already know how to get a plan, achieve it, and know how to plan out their day."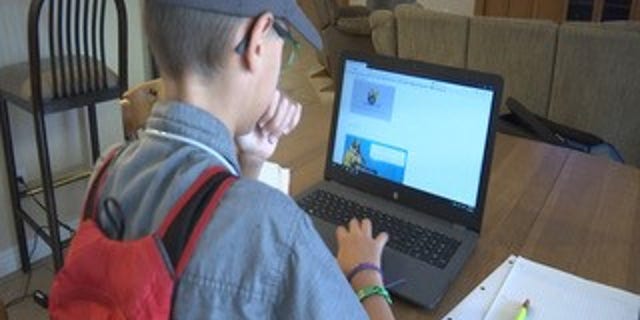 What drew Faulkner and her husband to virtual schooling was the ability to work around her son, Campbell's, schedule. Campbell has Mitochondrial disease and with him being in virtual school, Faulkner says he's had perfect attendance even taking rigorous courses. He's had the time after completing schooling for the day, to start a non-profit.
IRON MAN SUIT GOES ON SALE - BUT IT'LL COST YOU $440G
It's also led Faulkner's daughter, an incoming high school freshman, to enroll in virtual schooling. She can then focus on her passion in video, arts and crafts, and cooking after completing school for the day.
"You really learn time management because you have to make sure that you can understand but then you also need to be able to get a bunch of different lessons done all in one day," Campbell said. "That way you can progress and complete all your classes throughout the year."
Campbell also says it's amazing to have all that technology, as he can talk with teachers and classmates in live classroom settings online.
"I support whatever choice a parent or parents make. I say all the time, God gives children to parents, not to government bureaucracies. So, it's up to them to make the best decisions."
Online schooling is also seeing an increase in the traditional public school setting, with more school districts offering online courses for its students. Diane Douglas, Arizona Public Instruction superintendent, says the school choice depends on each child individually and that what may work best for one student may not work for another.
"I support whatever choice a parent or parents make," Douglas said. "I say all the time, 'God gives children to parents, not to government bureaucracies.' So, it's up to them to make the best decisions."
While virtual schooling is on the rise at homes, homeschooling is also growing as a non-traditional option for parents. The most recent survey from the US Department of Education showed 1.8 million children were homeschooled in 2012; an increase from the 1.1 million who were homeschooled in 2002.
The main difference between virtual schooling and homeschooling is that it's publicly funded and there is a set of teachers students are assigned to 'virtually'—through an online curriculum where they can interact with teachers and other students online. Whereas with homeschooling, it's privately funded by each parents and the parents are the teachers.
WHY ARTIFICIAL INTELLIGENCE MUST DISCLOSE THAT IT'S AI
Allison Gentala is a board member with her husband for Arizona Families For Home Education. They have eight children and decided to homeschool all of them and says it's given them more time and freedom pursue their passions such as music or robotics.
"I really wanted to be involved in educating my kids and actually being the one to teach them," Gentala said. "But the virtual academies are an excellent choice for people who would like to have their children out of the public schools but still have a teacher teach their children—but have them in their home."
Parents choose these alternatives to a traditional classroom setting for a variety of reasons. The most recent government survey on why parents homeschool their children show parents' reasons showed over half had either a concern about environment of other schools, a desire to provide moral instruction, a dissatisfaction with academic instruction at other schools, or a desire to provide religious instruction.
For virtual schooling in Arizona, there's no looking back—heading into the future with this virtual school technology at the forefront—starting with the first day of school from a laptop next week.
"We're preparing students today for jobs that probably don't really even exist at this point, especially as we look into the technology fields and business fields—having the skill set that they achieve by communicating and working in an online setting is going to prepare them for what lies ahead tomorrow," Dr. Van Sande said.