US Troops Jump with Poles Amid Ukraine Crisis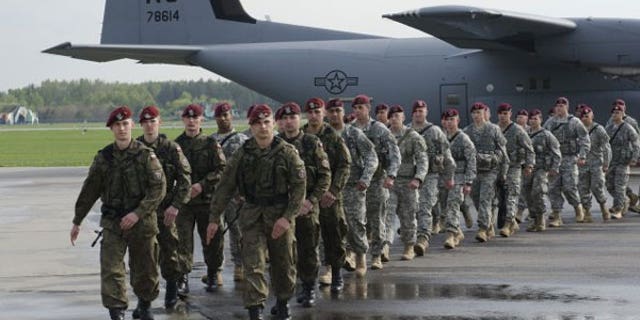 The "Sky Soldiers" of the 173rd Brigade stepped up jump training with Polish paratroopers Monday as part of the allied buildup in Eastern Europe to guard against spillover from the escalating fighting in Ukraine.
About 150 paratroopers from the 1st Battalion, 503rd Regiment of the 173rd were jumping with the Polish 6th Airborne Brigade in an "effort to assure our allies of our commitment to the region," said Army Col. Steve Warren, a Pentagon spokesman.
President Obama was expected to visit Warsaw next month to mark the 25th anniversary of Poland's first democratic elections in the breakaway from communist rule and Russian dominance.
Other units of the 173rd were involved in joint training with troops from Lithuania, Latvia and Estonia as Ukrainian security forces pressed what was described as an "anti-terrorist" operation against pro-Russian militants in eastern Ukraine.
Ukraine's acting President Oleksandr Turchynov also conferred with German Chancellor Angela Merkel on the possibility of re-convening peace talks later this week n Geneva involving Russia, Ukraine, the U.S. and the European Union.
"We are ready to communicate with those people in the east who are ready to discuss their position, but discussions with those who use weapons against Ukrainian citizens are impossible," Turchynov said, according to the Ukraine's presidential press service.
Outside the flashpoint town of Slovyansk, Ukrainian Interior Minister Arsen Avakov told reporters that Ukraine is "not using anti-terrorist operation forces to storm residential quarters and they have restrictions on attacking places where civilian opulations are located."
Ukraine's Defense Ministry reported Monday that one of its Mi-24 helicopters had been shot over Slovyansk and had crashed into a river, but the crew survived. At least four Ukrainian soldiers had been killed and 30 wounded in fighting Monday, the Ministry said.
Ukrainian officials said they were intent on going ahead with elections scheduled for May 25 while Russian President Vladimir Putin pressed for a referendum on autonomy for Russian-speaking eastern Ukraine.
The Russian government's claims of its right to protect ethnic Russians in other countries has put authorities on edge in Lativa and Estonia, where about 25 percent of the population is ethnic Russian.
In Lithuania, officials said they had been informed by Moscow of the suspension of a 2001 agreement providing for the mutual military inspections of Lithuanian forces and Russian forces in the Kaliningrad enclave sandwiched between Lithuania and Poland. Kaliningrad is the headquarters for Russia's Baltic fleet.
A spokesman for Lithuania's Defense Ministry said Moscow gave no reason for suspension of the mutual inspections agreement.
The U.S. in March sent six F-15 fighters to bolster air patrols over the Baltic States and NATO allies in recent weeks have also contributed to Baltic defenses.
Four Polish MiG 29s from Poland were expected to arrive in Lithuania on Tuesday, and Denmark has committed to sending four warplanes to Estonia.
French military officicials said that about 70 French military personnel have been deployed to Poland in support of four French warplanes. Both Britain and France have also deployed AWACS early-warning aircraft to patrol over Poland and Romania.
-- Richard Sisk can be reached at richard.sisk@monster.com