TuneIn banks on mobile airwaves, sports to push premium content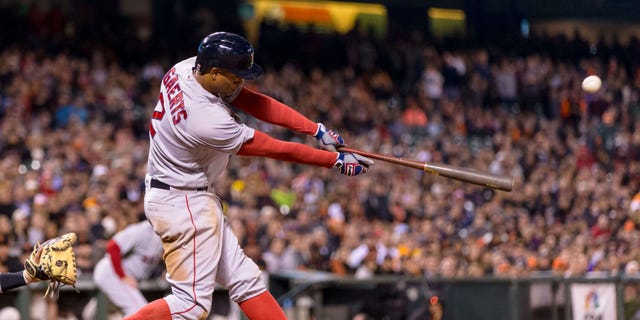 Streaming audio may not be killing the radio star, but those digital streams are definitely changing the future of radio by altering the delivery of audio content on demand.
Digital audio platform TuneIn is banking that it can provide the mobile, modern listener with access to radio stations and coveted content, including live sports, to carve its own niche in a new golden age of wireless.
"This is an evolution of audio. That [radio] dashboard and those punch buttons have really evolved and we're helping our partners get their content to listeners," TuneIn Chief Content Officer Kevin Straley said in an interview with FoxNews.com.
Related: Inventor of World Wide Web wants it to change
The former satellite radio executive adds, "I grew up in Boston with 40 [radio] stations. Then with satellite we went to 100-170 stations in 48 contiguous states. TuneIn is global--125,000 channels. We help to navigate and make sense of that audio dial."
The digital audio platform partners with these radio stations, podcasters and other audio content producers. It claims to have some seven million on-demand programs and podcasts, and TuneIn shares pre-roll commercial and banner ad revenue with these partners.
And because it is digitally distributed on iOS or Android platforms via a free app, or the pro app, which has a one-time fee for ad-free listening, Straley says it's growing internationally. The service claims more than 60 million monthly active users, about one-third of those are in the U.S., and it says listeners are spending 2.4 hours per day on the TuneIn platform.
Related: ISIS taps tech for Web radio
A recent Edison Research survey found more than one-third of respondents stream audio in the car from their smart device, and that one of every five minutes of audio consumption now comes from the smart phone.
But given the amount of challengers in the space, TuneIn has its work cut out. The Edison Research note showed TuneIn distantly trailing Pandora, Spotify, iHeart Radio, Apple Music and others.
Field of streams
TuneIn is tackling the issue head-on. It's leveraging popular sports league content to differentiate itself from its mostly music streaming competitors.
In fact, TuneIn is using sports as the centerpiece of the premium service it launched last August. It offers live game action and content around the NFL, English Premier League and Major League Baseball, with the NBA coming online next season.
The radio platform is also producing its own content for the first time in the form of live shows dissecting games, with interviews of notable current and former players, coaches, and execs, as well as analysis of drafts, lineups, and injuries.
Related: Case shines spotlight on translation, tech in policing
The sports shows are free and originate from slick new studios in the Venice Beach neighborhood of Los Angeles. They serve as teasers to entice listeners to pay $9.99 per month for premium, which also includes 600 commercial-free music stations plus Walt Disney streams, and unlimited access to 40,000 audiobooks, among other offerings.
Additionally, TuneIn is exploring opportunities to expand its content offerings of original productions and from outside partners.
The company says about one-quarter of premium subscribers are listening to Major League Baseball games as sports remain "appointment listening" just as they have become the last live "appointment viewing" on TV.
Straley, a diehard Boston Red Sox fan, says when he's on the road he would rather have his wife give him a play-by-play of a game at Yankee Stadium than listen to New York's announcers call the action.
Related: Man who asked 'Can you hear me now' switches from Verizon to Sprint
Some analysts say the TuneIn executive is not alone, and that these sports fanatics may drive the premium service.
"I think there's enough people out there with demand for their hometown sports it's viable," Mark Fratrik, SVP/chief economist for BIA/Kelsey, said. "It's a viable model, there are tremendous economics of scale, and subscriptions bring money to the bottom line."
Gotta get connected
Sports aside, TuneIn is banking on an ever-increasing connected world to boost listenership and time spent listening to programming on the platform.
Straley says 250 devices support the digital service, including Amazon Echo with the Alexa voice service, which he called "critically important."
He adds, "Echo is one of those devices advancing the audio format. I think anyone who's in audio production, partnership and radio should be thinking about how to program for that device. It's very different than Sonos and terrestrial radio. It's more intuitive and snackable in terms of that content. We're in mile two of a 26-mile marathon with that device. I'm really excited about it."
Paradise by the dashboard light
And while more home listening is being streamed, analysts say the car is still key for streaming services such as TuneIn. The fact that Apple CarPlay and Android Car are infiltrating the dashboards of new models of connected cars, and Bluetooth or auxiliary cables allow access to streaming services, makes it easier to compete against satellite radio and legacy terrestrial radio stations.
"I'm fascinated they're trying to take advantage of the 'IP'ization' of the car and create a competitor to Sirius (XM Satellite Radio)," Rich Greenfield, media and tech analyst with BTIG, noted.
Greenfield stopped short of calling TuneIn the radio of the future, but he did say, "I think there's no doubt the mobile phone is the center of your life, your do-everything gadget, remote control for your life. Your phone is populating the experience in your home; Sonos is trying to attack that."
"The biggest challenge any online audio site has faced is the challenge of making it as easy getting it in the car as it is to get satellite radio," he added. "As the car becomes IP-enabled it makes these services so much easier to take advantage of. The chicken and egg problem is finally getting solved with Google and Apple in the car."