The best tactical gifts for men this Valentine's Day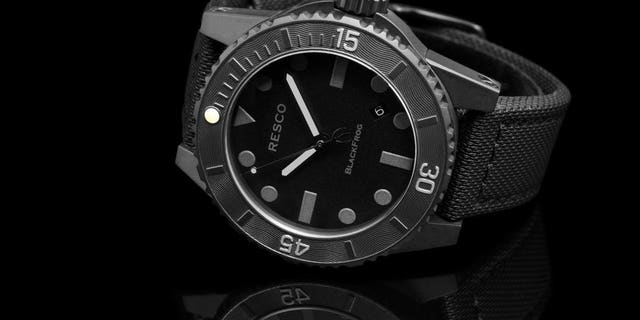 A watch fit for a Navy SEAL, a treehouse, a Jason Bourne-worthy bag, and a James Bond-style belt are on this year's Valentine's Day gift guide.
Looking for the ideal gift for the man in your life this Valentine's Day? Here are seven ideas with a tactical spin for a range of budgets, starting at $30 through to the big-spend zone.
A SEAL-worthy watch
Watches are always a popular gift for Valentine's Day. But how about making your man the envy of his buddies with a truly next-level watch— one designed by a Navy SEAL and worn by SEALs and other elite military forces.
Watches by Resco Instruments feature outstanding design and exceptional craftsmanship. The company describes the limited-edition BlackFrog as "a little more 'Down Range' in your 'Down Town'" and designed for SEAL teammates looking for a subdued look. This watch possesses sexy features like a black-out matte lume dial, black DLC finish and subtle glow gray hands.
Each watch dial is hand made, so this is a unique and special gift. Since this is a limited run and first dibs went to the SEALs who inspired and helped design it, nab one quickly for your Valentine before they are all gone.
High-caliber watches tend to be big spends, but this is one investment he will love. It goes with everything, whether he's at the beach or a formal event— and is something special he will wear for a lifetime.
Veteran-owned Resco Instruments makes a wide range of very cool other models too, but the Black Frog Gen II is available for $2,295.00.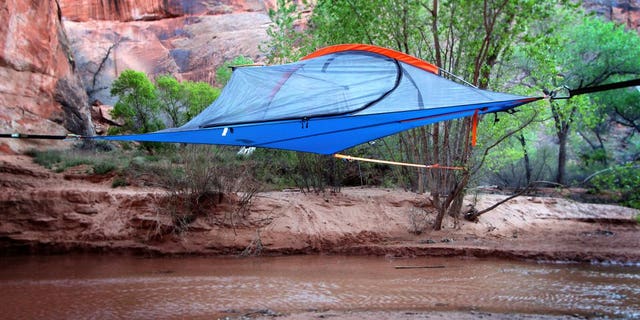 Get him a tree house
Who wouldn't want a transportable tree house? Made by Tentsile, the Flite+ is no typical tent— this is a two-person tent that you set up in the trees. Lightweight, it is rapid to set up and easy to carry. It has full protection from insects, a removable rain fly, and only takes one little ratchet to set up.
Whether deep in the wilderness on an adventure with his buddies or in the backyard with the kids, your beau will love this 2.0 treehouse.
There is a range of different models available, and with the Tentsile tree tents you can use them "to create a tree fort of epic proportions with multiple "rooms" and multi-stories.
The Flite+ comes in several different colors and is available for $350.00
Way beyond the ordinary shirt
Shirts are a classic Valentine's Day gift. But why not turn it up this year and get him an extraordinary shirt designed for the world's very best tactical professionals?
The Beyond A3 Transition Shirt TCS looks great, but it also delivers top-notch performance in cold weather. It is perfect for just about anything from watching the game to the most adventurous outdoor pursuits.
The shirt features Beyond's trademark ultra high-level materials and outstanding design. The arms and shoulders feature robust, four-way stretch woven fabric with removable foam shoulder pads. He'll also love how the fabric is remarkably quick drying and instantaneously takes moisture away from his skin making those those long days outdoors a lot more comfortable.
You can snap up the Beyond A3 Transition Shirt TCS at a very deep discount right now so you get even more shirt for the dollar. Usually this retails for $215.81, but for this Valentine's Day you can grab it for $85.00.
A Jason Bourne–worthy bag
This Hideout Backpack by Grey Ghost is a slam dunk. It's the sort of backpack a real-life Jason Bourne would have— and it's like getting him two bags for one.
The Hideout carries another smaller bag, and you can "hide" the backpack in the bag. Hideout is ultra handy to have around whether on an outdoor adventure, on vacation or just going to work. For example, next Valentine's Day if he happens to come across something he thinks would be a perfect gift for you, then he can pull out the backpack and stealthily carry it home in the Hideout.
And it is loaded with smart Bourne-type features like a hidden compartment in the bottom where he can stash what he might need to keep secure, like a passport.
Available for $55.00.
Belt with James Bond-type features
Belts are another classic gift for Valentine's Day – but let's face it. That can be boring. Dynamis Alliance is renowned for their blades, but their commitment to innovative excellence goes beyond that.
Choose something like the Dynamis 1.5 inch LOPRO Belt that is designed for tactical professionals and loaded with cool, covert features. It is engineered to be ultra comfortable for everyday carry of his weapon and incorporates very cool things like a hidden key pouch, hidden cash and document pouch.
Comes in black with either red or grey, and the 1.5-inch version is available for $59.99.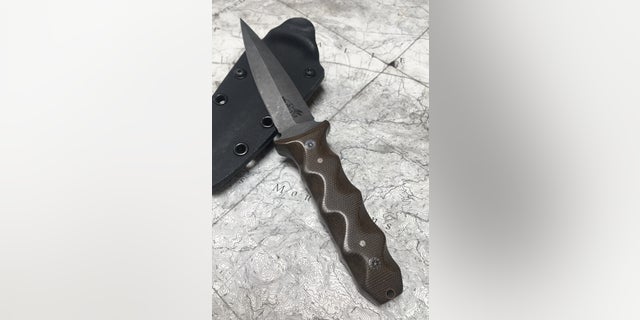 A warrior's blade
A dagger is the sort of accessory you can picture Vikings, knights and gladiator-type men would carry as they go about their daily business defending the realm.
For the tactical male, a fine blade is essential, and Half Face Blades make some of the very, very finest. Half Blades are a go-to for some of the most elite US warriors.
The Combat Dagger with textured OD Green G10 handles/Grips with CF pins has a four-inch blade. Acid-etched and stonewashed finish is a great option.
It has a striking, distinctive, ambidextrous handle with open tang glass breaker. This beautiful dagger comes with a suede-lined black kydex sheath and it can be carried either vertically or horizontally.
Given the bespoke nature and phenomenal craftsmanship, as you'd expect this dagger is a big spend gift – but one that will be an investment in a piece he will deeply value. The Combat Dagger with textured OD Green G10 handle is available for $400.00.
Tactical trucker cap
Get him a trucker-style baseball cap made by the Arc'teryx LEAF folks responsible for creating some of the most sought after apparel by elite special operations forces around the world.
The Arc'teryx LEAF BAC comes in black, khaki and wolf gray for $30. It has FlexFit construction, and mesh side and rear panels for extra venting. There's a velcro patch on the front that he can use to change it up with different patches.
For more Bourne inspired gift ideas, check out Tactical Talk.