Startup Vurb seeks to streamline mobile search and become a verb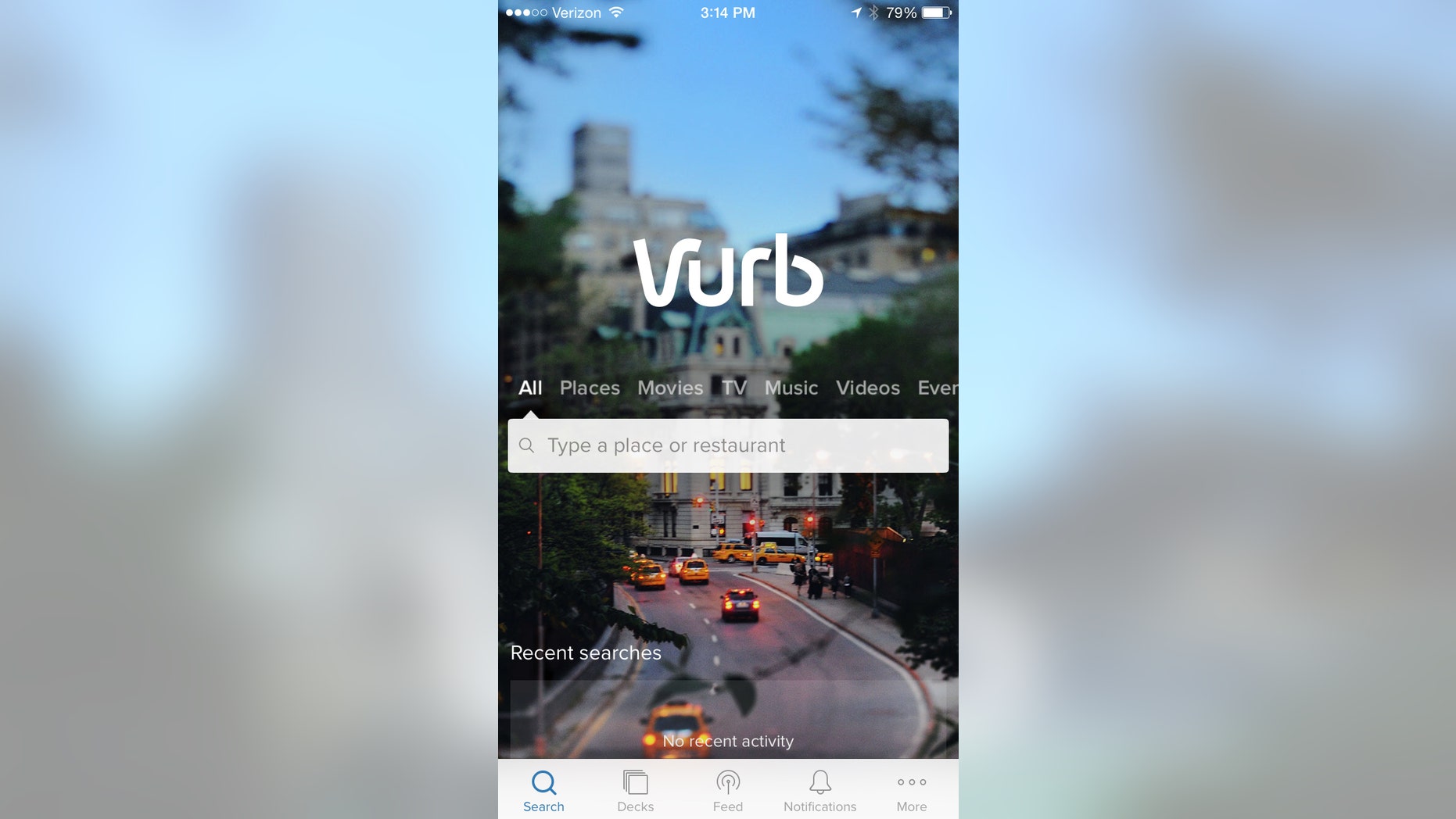 Move over Google, there's a new search in town. And there's a Vurb for that.
Vurb, a San Francisco-based startup, is seeking a special place in our lexicon. It hopes to become a well-known, self-identifiable word for what the digital industry calls "deep-linked" mobile search.
Vurb has been designed to solve a problem for searches on mobile devices: How to quickly and efficiently find information and options and then share them with friends — or save them for later — in just a few steps, without hopping among apps or multiple tabs in a browser.
"The hope is this is the new way of sharing information," Vurb founder and CEO Bobby Lo says optimistically. "We're done with just sharing the name of a restaurant in a text message…. Vurb is the place to find, plan and do by connecting you with the apps and relevant services all in one place."
Vurb, which launched today for iOS devices (Android to follow "soon"), connects people with data and each other, allowing for social discovery from results shared by peers or celebrities and reviews from well-known partners such as Yelp, Rotten Tomatoes and Foursquare.
Vurb's inaugural deep-linked categories are Places, Movies, TV, Music, Videos and Events.
How it works: To search, to find, to have, to hold
You know the drill. You're planning a first date, and you have to select a movie and a restaurant, figure out which film is highly rated and which eatery gets great reviews, and how to get from your place to the movie, then to the restaurant, and then back to your place (or, if you're lucky, your date's).
With Vurb, you search for films and, without leaving the app, view reviews and clips from partners, including IMDB, Metacritic and Rotten Tomatoes. Then — while still on Vurb — you use geolocation services to find the theaters and save all the show times. You can buy tickets directly from Fandango, and the movie and show time are saved to an interactive card and built into a "deck" that you can share or keep private.
If you want to find a restaurant, café or bar near the theater, just scroll down to More Actions and search either Nearby Places or Restaurants, complete with social reviews from Foursquare and Yelp as well as videos from Tastemade.
Now that you're ready to go, the theater is saved on the deck's interactive map, which you can open in the map app of your choice, or in Waze. There's also a link to Request a Ride from mobility apps, including Uber and Lyft.
There's still a lot of screen tapping, but in beta tests Vurb eliminated text message traffic and cutting and pasting into an email or a note. Plus there's a collaborative feature that allows others to edit decks and leave notes when determining where to go.
Brian Solis, who follows social media and mobile trends for Altimeter Group, is among the impressed. "When you hop apps all the time, it's painful," he said. "[Vurb] is what I call 'the experience flow' come to life. It'll change the way we do things by placing the way we find and use stuff into one place."
He said Google is losing in mobile search because people are looking for shared experiences, not websites. "Vurb is potentially disruptive to Google," he said. "Google will want to pay attention to it, maybe acquire it or invest in it."
And he likened Vurb to Steve Jobs' introduction of touching and swiping Apple products, beginning with the iPod wheel. "I see this as a breakout hit because it puts the ability into our fingertips to do things we wanted to do but couldn't. Now we can.
"But the challenge is, it's introducing something new. If it doesn't get momentum it could be a just cool app that only some people use."
Expand Now, Earn Later
Having raised $8 million for Vurb from investors, including PayPal co-founder Max Levchin, Dropbox CEO Drew Houston and Redpoint Ventures, Lo says he is not overly concerned with monetization right now.
"It's not a priority," he said in an interview. "You could always do advertising, but our goal is to provide users with the best experience."
He said the product gets some "passive monetization" from referrals to partners who make transactions after linking via Vurb, but he would not elaborate.
Solis, who has used a beta version of Vurb, agreed that cash flow shouldn't be a concern right now. He said Vurb should build out its network first, and he likened it to Facebook, which eventually convinced investors it could make money from mobile.
"The product is elegant, the technology is disruptive, to say the least," he said. "Is it enough to conquer the industry? It remains to be seen. It's closely guarded. If they can demonstrate momentum, then monetization becomes the least of their worries."
"At the end of the day," Lo says, "conventional search engines take you to one point and let you go where you need to. Our fundamental difference is not only are these cards shareable units, you can navigate card to card through that entire path. We're trying to help people navigate all the way to the end."
And if Lo has his way, he'll be sitting in a coffee shop one day soon, and someone in the next booth will reach that end and say, "Let me Vurb you this card."