Special Operations dogs set for new advanced tactical gear
Dogs serving with the elite Army Rangers may soon have new Tactical Vests and more gear to wear on missions.
U.S. Army Special Operations Command is looking for ideas to equip the 75th Ranger Regiment's dogs with advanced vest protection, wearable sensors and video cameras.
This dog gear-up program is called Multi-Purpose Canine (MPC) Tactical Equipment. USAOC aims to give the dogs Tactical Vests that will better enable them to insert for missions with the Rangers via helicopter, for example. They will also be designed to help amp up how they can support missions downrange like compatibility with a new, wearable video camera system that can provide real-time footage to Rangers.
The Rangers' regimental dog program trains multi-purpose canines and their handlers. They master a range of skills to support the vital Ranger combat operations in often challenging conditions.
Many military working dogs train for and perform specific tasks like seeking out hidden bombs. Multi-purpose canines are different.
HOW DEADLY DRONE SWARMS WILL HELP US TROOPS ON THE FRONTLINE
Like the Rangers themselves, these dog teammates must master a wide spectrum of skills and be the very best to make the tough selection for such an elite force. All Ranger Dog Teams go through an Advanced Handler's Course at Fort Benning, Georgia.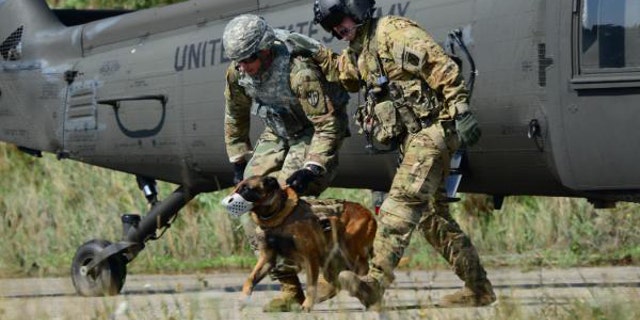 There's no specific size or shape to be a contender for selection as an MPC. They can be on the smaller size, weighing under 70 pounds, and get a lot bigger and heavier from there.
USASOC is therefore ensuring each dog gets the customization it deserves instead of a one-size-fits-all dogs approach. And this new gear still needs to be light so as not to impede the dog's speed and agility.
Companies with fantastic solutions to provide these brave dogs with more advanced gear have until 10 am Friday to submit their proposals for consideration.
PODCAST: TOP CIA EXPERT TEACHES YOU HOW - WITHOUT USING A GUN - YOU CAN STOP ATTACKERS
Tactical Vest
Each dog will get a customized Tactical Vest tailored for a perfect custom fit. The Tactical Vests need to be light to ensure they don't hinder a dog's movement and speed. USASOC is aiming for the vests to be between one and a half to three pounds.
HOW TO GET YOUR HANDS ON A HISTORIC M1911 PISTOL FROM THE US ARMY STOCKPILE
To travel and insert for missions with their Ranger teams, the Tactical Vest will have an attachment point with a 2,500-pound capacity. They also need to have rappelling straps, quick release buckles and accessory rail system.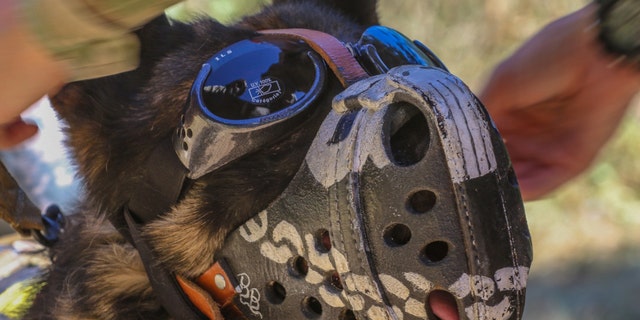 The vests will be designed to help the dogs carry mission equipment like lights, communication systems, sensors, and cameras. They'll also need front and back handles.
The canines will get to have their bespoke Tactical Vest fittings during the Regimental Advance Handler Course at Fort Benning, Georgia.
USASOC expects the vests to be robust and fit to survive combat conditions so they need to be made from material like Mil Spec. webbing and 1000D Cordura.
PODCAST: FIND OUT HOW RANGER MAT BEST BECAME A YOUTUBE STAR + HUGELY SUCCESSFUL ENTREPRENEUR
Camera System
Drones, whether massive scale flying high in the sky or backpack carried drones, often provide valuable eyes in the sky. Like the drones, the dogs kitted up with cameras could provide vital reconnaissance and even surveillance to teams.
AMAZING NEW MILITARY HELICOPTERS TO LOOK OUT FOR IN 2018
With a camera system, Rangers can see what the dog can see. Dogs could both hunt for hidden IEDs in the route ahead as well as showing teams any human threats hiding around the corner.
During Ranger operations, the camera system will be able to provide real-time video to the dog's handler. The camera system will be light-weight at no more than two pounds including the battery.
It is important to ensure only the U.S. forces can see the video so the new camera system needs to be able to securely transmit video from dog to handler.
Whether traversing water or contending with pouring rain, sometimes Rangers are going to get wet on missions so the camera should be waterproof and protected with a cover. To capture video effectively, it needs to be mounted on a flexible arm that can rotate and pivot.
Operations can be conducted at any time and can involve going inside dark structures, so the new system needs to be able to still capture video during missions with low light. It is equally important that the camera does not compromise stealth or reveal locations with indicator lights. During missions, there must be no lights visible on the camera.
Sensor System
A sensor system for the Ranger dogs is the third piece of new gear. Equipping the dogs with a Multi-Purpose Canine sensor system will enhance the capabilities that the dogs can bring to operations.
THE MOST EXCITING MILITARY VEHICLES OF 2017
While the camera system needs to ensure no light is visible, the sensor system needs to deliver powerful light as a tool for the Rangers to use when necessary. This new system will include high power strobes, infrared light and a green light.
Ensuring ease of use, this system will be designed to respond to voice commands and allow Rangers to remotely activate the lights.
Again, it is important to keep light down so USASOC wants the sensor system to be less than 8 ounces and about the size of a pack of cards at about three inches, by three inches and 1.5 inches thick.
The system should perform on missions for at least 36 hours before a Ranger has to switch out the battery.
It will be able to drop markers along the way and if the canine has to dive into water at some point, then the system will keep on working thanks to a completely waterproof design.
Who can apply?
Unfortunately, not just anyone with a brilliant solution can apply to support these military dogs. To submit a proposal for the Multi Purpose Canine Tactical Equipment program, a would-be contractor must have a minimum of 10 years' experience "supporting MPCs in special operations."
The dogs need to move with the Rangers and the new gear should increase capabilities they bring to the team. Solutions need to fit with current tactics, techniques and procedures and this is one of the reasons prior experience with special operations would be useful.
If you fit the criteria and have some great ideas to support the brave Ranger dogs, then your proposals are due by 10 a.m. Eastern time on Jan. 19. You can find more information here.