SoftBank's 'emotional' Pepper robot sells out in just 60 seconds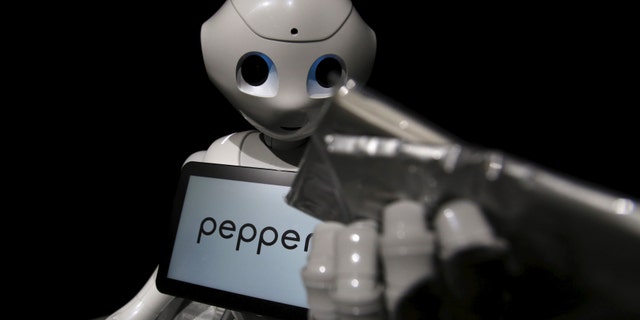 If early indications are anything to go by, Pepper the "emotional" robot is going to be a seriously big hit with consumers in Japan.
Maker SoftBank said it took just one minute to sell its first batch of 1,000 Peppers when it went on sale Saturday morning.
Judging by the intensity of the 60-second sales rush, there'll be no shortage of interest in the next batch either, which should be ready later this month.
SoftBank partnered with French robotics company Aldebaran SAS to create Pepper and is working with tech manufacturing giant Foxconn to manufacture it.
The humanoid bot, which cost each of the 1,000 buyers 198,000 yen (about $1600), is expected to go on sale in the U.S. and Europe some time next year.
Related: The robot apocalypse is a ways off – watch these DARPA droids bite the dust
Standing 120 cm tall and tipping the scales at 29 kg, Pepper has been designed to understand human emotions by making sense of characteristics like facial expression, body language, and tone of voice, and then responding accordingly.
Speaking at a special event near Tokyo last week to launch the latest version of the unique robot, SoftBank boss Masayoshi Son said Pepper could comfortably act as a friendly companion and entertainer in the home thanks to its ability to sing, dance, and even tell jokes.
Related: Humanoid robot debuts in Tokyo department store
Businesses, too, will be able to use the bot to meet and greet customers, while schools and retirement homes are also expected to find applications for it.
Pepper was revealed to the world last year though has undergone many changes since then. Although the robot has always been able to understand the emotions of humans to a greater or lesser degree, the original Pepper was unable to respond with any emotion of its own. With an array of on-board sensors and newly developed software, however, that's all changed.
Indeed, as the robot becomes increasingly familiar with the personality of its owner, its own personality will change over time, meaning no two Peppers will behave the same.
"People describe others as being robots because they have no emotions, no heart. For the first time in human history, we're giving a robot a heart, emotions," Son said when Pepper was first shown off to the public.