Soccer-playing robot's creators release software for free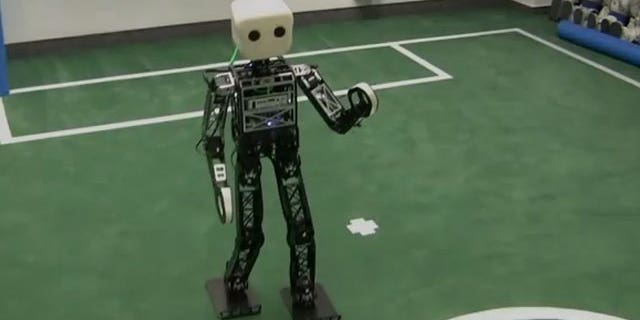 NEWYou can now listen to Fox News articles!
There's no other soccer star in the world you could buy for $26,000.
Computer scientists from the University of Bonn in Germany are releasing for free the programming that's behind their soccer-playing, prize-winning, humanoid NimbRo robot. A fully assembled NimbRo is available for purchase for $25,600 . NimbRo is three feet tall, weighs about 15 pounds and has won the RoboCup, an international robot soccer championship, in its size class every year since 2009.
By making the NimbRo's software and hardware openly available, the robot's makers hope to help other researchers develop active, midsize, bipedal robots. "Our goal is to stop reinventing the wheel over and over," Sven Behnke, who led research on the NimbRo, said in a statement. "By using an open platform together with other researchers, we want to find solutions while saving on effort and expenses."
[pullquote]
NimbRo is able to walk, kick and get up if it's knocked over on its face or back. A wide-angle camera helps it detect where the ball is over a large part of the field, while a built-in accelerometer and gyrometer help it stay stable on two feet.
Compared with a human, its strides are small and its gait is slow, but it's still fun to watch in a match.
Behnke and his team also hope that when other scientists work on NimbRo, they'll develop robot abilities that would be helpful in a variety of situations beyond the soccer field. "For example, [NimbRo robots] are capable of using tools, climbing stairs and passing bottlenecks that are too narrow for wheeled or tracked robots," Behnke said.
As for the RoboCup, its goal is to develop robots capable of competing with human World Cup soccer players by 2050.
Top 7 Useful Robots You Can Buy Right Now
PSY-ops? Navy Robot Goes 'Gangnam Style'
Copyright 2012 TechNewsDaily, a TechMediaNetwork company. All rights reserved. This material may not be published, broadcast, rewritten or redistributed.