Smartphone Madness 2012 Begins Monday, March 12 at 10:00 a.m. EST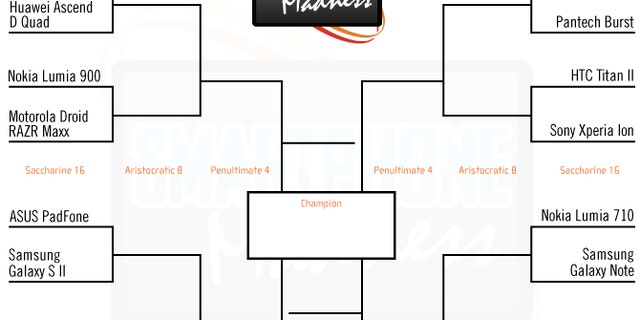 NEWYou can now listen to Fox News articles!
College basketball isn't enough madness for everybody. To get the proper amount of March crazy, fill in your "other" bracket. The catch? Who will win Smartphone Madness 2012 is totally in your hands.
Each business day from Monday, March 12 to until Monday, April 2, 2012, you'll get the chance to vote in another game between two handheld competitors. Here we pit 16 of the most popular and anticipated smartphones from the big four carriers against one another.
During the selection process we had to make some tough calls. We debated and conferred about the contenders, even asking for your advice on Facebook. From the HTC One X and the BlackBerry Bold 9900 to the Nokia Lumia 710, we have chosen phones based on popularity, features, value and general drool-worthiness. Now the choices are in your hands, dear readers. Will we see any Cinderella stories? Will RIM attempt a 3-pointer at the buzzer, or will the Windows Phone 7.5 newcomer surprise the crowd? Only time (and your votes) will tell.
So tune in smartphone fans. Right here, on Monday, March 12 at 10:00 a.m. EST, we will watch the heavily-favored Apple iPhone 4S and the relatively-unknown Huawei Ascend D Quad as they tip off their 23-hour battle.