Sgt Maj Tells Congress Troops Can Handle Pay Cuts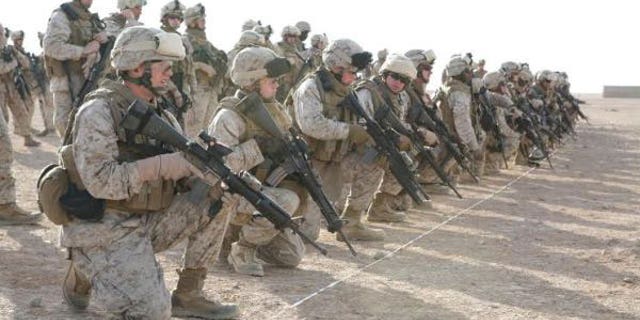 NEWYou can now listen to Fox News articles!
The Marine Corps' top non-commissioned officer on Thursday told Congress that Marines and sailors care less about pay and benefits than they do about having the best training and tools for the job.
"Marines don't run around [asking] about compensation, benefits, retirement modernization. That's not on their minds," Sgt. Maj. of the Marine Corps Micheal Barrett told the Senate Armed Services Committee Wednesday. "As I walk around to talk to the thousands [in] audiences, they want to know into whose neck do we put a boot next. They want to know about what new equipment are we getting."
If pay and compensation does come up, he said, it's not among the top three concerns.
Barrett's testimony echoed remarks made late last month by Vice Adm. William F. Moran, chief of naval personnel and deputy chief of naval operations, and Sheryl E. Murray, assistant deputy commandant for manpower and reserve affairs for the Corps.
"I would emphasize our Marines do enjoy a good quality of life. Our Marines love being in the Marine Corps family," Murray told Congress in March. "Most of all, they want the right equipment. ... They want to be trained, and they want to be ready. That is the overriding desire."
Their comments, quoted in a March 26 Military.com article, have drawn a wave of feedback from readers who have disagreed with the military officials' testimony. The majority of responses from readers slammed leaders for making the claims and suggested any cuts start with the people at the top.
"The BRASS aren't (sic) feeding their families with food stamps, THE BRASS aren't buying clunkers of cars with questionable safety to travel with their families," one reader posted.
Another wrote: "I also don't recall anyone asking me or my fellow comrades if we wanted to take a pay cut."
Many wondered where the leaders were getting their information outside of personal anecdotes. During Barrett's testimony, he did not reference a survey, only his personal interactions with Marines.
Other Military.com readers used the comments made by leaders like Moran and Murray as an example of how out of touch the leadership was with the lower ranks.
"I sure would like to know who they talked too also," one wrote. "I can't imagine that the troops would agree to something like this."
The service leaders have been making the case that personnel costs have to come down to maintain readiness. The service secretaries and chiefs have repeatedly pointed out that pay and benefits represent the fastest growing portion of their budgets.
In testimony last week before the House Armed Services Personnel Subcommittee, the top personnel officials from all service branches, as well as Acting Under Secretary of Defense for Personnel and Readiness Jessica Wright, said quality of life for military members and families is good, but that quality of service -- troops' training, weapons and technology -- is at risk.
"I hear more from [sailors] about the quality of service, as reflected here in terms of their ability to do their job," Moran told the panel, "so for us it's manning of the fleet and manning at sea, it's about providing them the equipment, the training and support so they're ready to do their job."
Murray agreed.
"Our Marines love being in the Marine Corps family," she said. "Most of all they want the right equipment to go to war, they want to be trained, they want to be ready. And we have found that is the overriding desire of our Marines."
Congress has pushed back asking military officials why they are making these recommendations without waiting for the Military Compensation and Retirement Modernization Commission is expected to turn in its review and recommendation a year from now.
Pentagon officials said the military can't wait a year for the commission's report followed by another year before any recommendations could be adopted.
"We've got to make a near-term savings in the next couple of years. Otherwise, we're going to dig ourselves into a hole and just not going to be able to get out of it," Army Deputy Chief of Staff Lt. Gen. Howard Bromberg said in March.
Moran said his view is based on meeting with sailors around the fleet. According to a spokeswoman for the Manpower and Reserve Affairs, Murray's observations also were drawn from numerous interactions with Marines and discussion with leaders from across the Corps.
At the Pentagon, a spokesman for the Department of Defense said he is not aware of any DoD-wide surveys asking service members their thoughts on trimming pay and benefits to defray the costs of training, gear and technology.
-- Bryant Jordan can be reach at bryant.jordan@monster.com