Samsung courts iPhone switchers with $1 test drive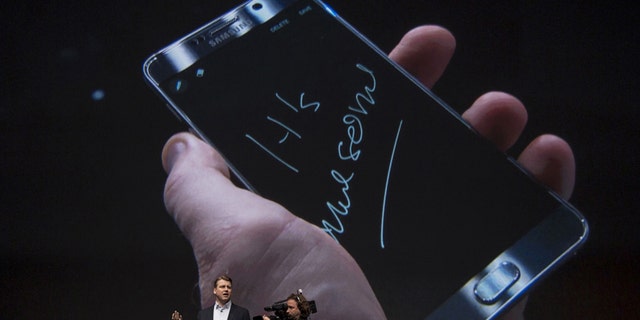 NEWYou can now listen to Fox News articles!
Samsung is confident that iPhone owners will love the Galaxy Note 5 and S6 Edge — so confident that the company is letting them try the new phones out for just a dollar. As part of the company's Ultimate Test Drive initiative, folks with iPhones can test Samsung's latest handsets for a month, complete with a data plan and their existing phone number.
UPDATE: It looks like lots of iPhone owners are eager to try a Galaxy, as Samsung is officially out of trial devices for its Ultimate Test Drive.
"In just a few hours, all of the kits earmarked for this program were reserved by customers looking to try our latest and greatest devices. We're now working quickly on how to make the Ultimate Test Drive available to even more people," said a Samsung spokesperson.
This trial program applies to Samsung's Galaxy Note 5, Galaxy S6 Edge Plus and Galaxy S6 Edge. You can register by using your iPhone to visit Samsung's Promotions website, where you'll have to pay a $1 processing fee in order to receive one of the phones. Regardless of which Galaxy you opt for, your trial device will come with a 30-day voice, text and data plan on your current carrier (T-Mobile, Verizon, AT&T and Sprint are all supported), as well as a transfer cable for bringing music and pictures to the new phone.
Don't get too attached to your loaner Galaxy, though; even if you've fallen in love with the new phone, you'll have to return it at the end of the month via a free box provided by Samsung. If you've decided that a Galaxy S6 Edge or Galaxy Note 5 is right for you, you'll simply have to buy a new one.
MORE: And The World's Fastest Smartphone Is...
We called the Galaxy S6 Edge Plus nearly perfect in our review, thanks to its rich 5.7-inch display, excellent camera and a gorgeous curved design that makes the iPhone look vanilla by comparison. The phone's curved screen offers more functionality than that of the standard S6 Edge, including the ability to launch some of your favorite apps with a quick swipe.
Our full review of the Note 5 is still in the works, but based on our hands-on impressions, there should be plenty for power users to love about it. The 5.7-inch phablet's improved S Pen allows you to start taking notes even when the phone is asleep, and its beefy octa-core Exynos processor has plenty of power to handle the device's myriad multitasking features.
Even without a free trial, the latest Galaxy phones make a compelling case for iPhone owners to switch to a Samsung.