Rap Star Kanye West Finds His One True Twitter Friend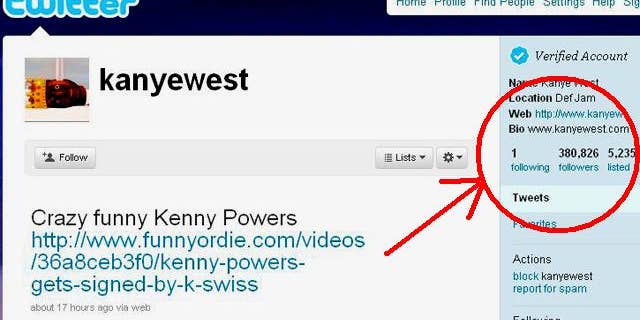 Rap star Kanye West is one of the world's most famous performers and has a Twitter following to show for it -- boasting more than 377,000 fans Monday.
But the outspoken musician is clearly careful when selecting who he wants to hear from on the social networking site -- he follows just one person, a man from the U.K. city of Coventry, in central England, named Steven Holmes.
Why West selected Holmes is a mystery, and the fan, who saw his own Twitter following rocket from 60 followers to more than 1,800 in just a few hours, seems a little surprised at all the attention.
He wrote, "Holy s**t bro, thx for following!"
The rap star replied, "You are the chosen one dun dun dun dun," but gave no further clues.
Holmes later posted, "I feel pressure to say amusing and witty tweets now that @kanyewest is following."
To which the star replied, "Tweet strong young man tweet strong!!!"
West is a recent convert to Twitter, only joining to promote his new album. Last year, he blasted the service after he discovered several people were impersonating him.
He wrote on his blog: "Why would I use Twitter??? I only blog five percent of what I'm up to in the first place. I'm actually slow delivering content because I'm too busy actually busy being creative most of the time, and if I'm not and I'm just laying on a beach I wouldn't tell the world. Everything that Twitter offers, I need less of."
Follow science and technology stories from Fox News on Twitter @fxnscitech.