President Trump would be proud: 5 American companies making stuff in the US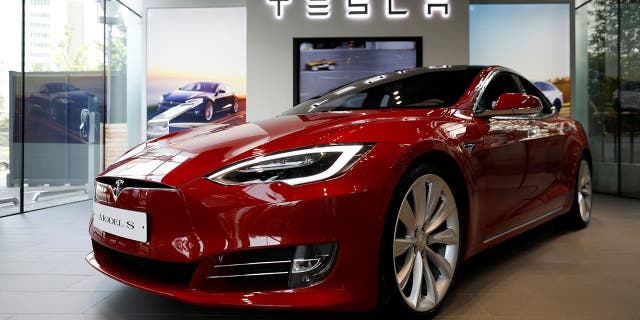 American manufacturing is a signature theme for President Donald Trump.
Here are five American companies that make amazing stuff right here in the U.S.
Tesla: the high-flying electric vehicle company manufactures its popular-but-pricey cars in Fremont, Calif., a city across the bay from Silicon Valley.
Tesla just started production of its first mass-market car, the Model 3, which starts at $35,000. Its cars, which offer some autonomous driving features, are essentially a computer on wheels.
CEO Elon Musk takes manufacturing as seriously as the cars themselves. "Tesla is going to be hell-bent on becoming the best manufacturer on earth," Musk said in an earnings conference call last year.
The venerable exec has gone on to repeat variations on that theme over the past year.
Intel: The chipmaker is a heavyweight when it comes to making chips in America.
Its newest 14-nanometer processors, made on some of the most sophisticated manufacturing processes on the planet, power PCs, MacBooks, tablets, servers and supercomputers.
Intel has massive chip-making plants in Oregon, Arizona and New Mexico. In February, Intel CEO Brian Krzanich met with President Trump to talk about the company's $7 billion investment in an Arizona chip factory. "Intel is very proud of the fact that the majority of our manufacturing is here in the U.S., while over 80 percent of what we sell…is outside of the U.S.," Krzanich told Trump at the meeting.
Micron Technology: Micron isn't as renowned as Intel but it is a longstanding U.S.-based high-tech manufacturer, dating back to 1978.
Micron builds memory chips including DRAM (dynamic access random memory) and flash memory. And it sells SSDs (solid-state drives) -- the "hard disk" used in most laptops today -- under the well-regarded Crucial and Lexar brands.
Micron has three major facilities in the U.S.: a plant in Lehi, Utah, which produces leading-edge flash memory products; another in Manassas, VA, which produces memory chips; and headquarters in Boise, Idaho where it has R&D manufacturing facilities.
Corning: That glass covering the display on your iPhone is made by Corning.
Almost every smartphone maker in the world, including Samsung, uses Corning's Gorilla Glass, a toughened glass that can survive five-foot drops onto rough surfaces.
In May 2017, Apple announced that the consumer electronics giant will invest $200 million from its new Advanced Manufacturing Fund into Corning to "support new advanced manufacturing solutions and product innovation at Corning's Harrodsburg, [Kentucky] facility."
Corning has 29 factories in the U.S. and is a net exporter from the U.S., the company told Fox News in a statement.
Weiss Watch Company: Last but not least is a small, Los Angeles-based watchmaker, Weiss Watch Company. While it doesn't have the dazzling high tech of the above companies, it makes a great traditional watch.
Its American Issue Field Watch, for example, "is limited to just 50 pieces, one for each state in the union," according to 2016 LA Times article.
"Weiss Watch Company strives to increase the percentage of domestic sourcing with each edition, and is the only company resurrecting industry practices that have not been active in the United States for decades," according to the company's Web site.