Oculix mashes Oculus Rift together with Netflix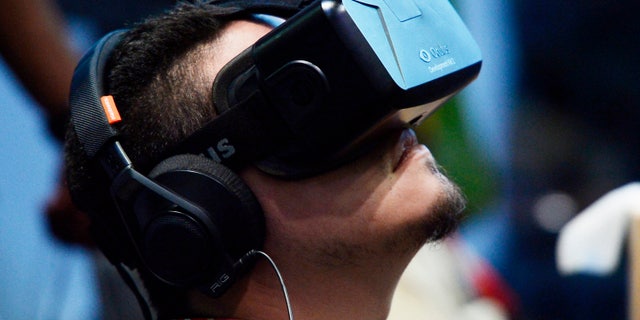 NEWYou can now listen to Fox News articles!
We've already seen the potential experience-changer that virtual reality headset Oculus Rift offers for in-theater movie viewer, by way of VR Cinema HD, but what if that could be joined with the library offered by a service like Netflix? A team of engineers at the on-demand streaming media company had the same idea, which led them to create a VR-friendly Netflix interface that they're calling Oculix.
The demo was produced as part of Netflix's annual Hack Day, an event that challenges the company's developers — more than 150 participated — to come up with innovative ways to tweak the online service. Oculix was one of more than 50 demos produced over the two-day stretch on August 14 and 15. While some of the ideas are little more than a joke, you can check out other promising candidates in a new post on The Netflix Tech Blog.
As you can see in the video above, the Oculix demo converts Netflix's main browsing interface into a 3D room that you navigate using simple hand gestures. Each piece of content is presented as an image, just as it is on the website (and other Netflix apps), but selecting one triggers a 3D effect that pushes "through" the image and into what looks like a black-walled viewing box.
Related: Still a novelty act: Virtual reality shows promise, but not enough for 2014
While it's certainly a nifty tech demo, Oculix merely tweaks the frontend interface. From the look of the pitch video, nothing changes once you get to the actual viewing experience. This leads to the fair question: Will people want to watch a two-hour movie that simply amounts to a 2D screen inside the VR headset?
VR Cinema HD works because it drops viewers into a VR replica of a movie theater. If Netflix is just a virtual screen floating in a black space — think Nintendo's Virtual Boy — then the motion sickness danger runs very high. It's hard to describe if you've never worn a VR headset, but projecting a static screen into a VR space doesn't work very well. When there's no virtual environment to immerse the viewer in, and nothing more than a screen that's always locked to the center of the frame no matter how you move your head, the effect is almost instantaneously dizzying.
That's what Hack Day is all about, though. Netflix engineers come up with the craziest ideas that they can. Even the concepts that are commercially viable require fine-tuning, as Oculix would. "If something interesting and useful comes from Hack Day, that is great, but the real motivation is fun and collaboration," the Netflix blog post's author writes.
"The teams produced hacks covering a wide array of areas, including development productivity, internal insights tools, quirky and fun mashups, and of course a breadth of product-related feature ideas,"the post continues. "[While] we think these hacks are very cool and fun, they may never become part of the Netflix product, internal infrastructure, or otherwise be used beyond Hack Day. We are surfacing them here publicly to share the spirit of the Netflix Hack Day."