Obama beat Trump in 2017's most retweeted tweets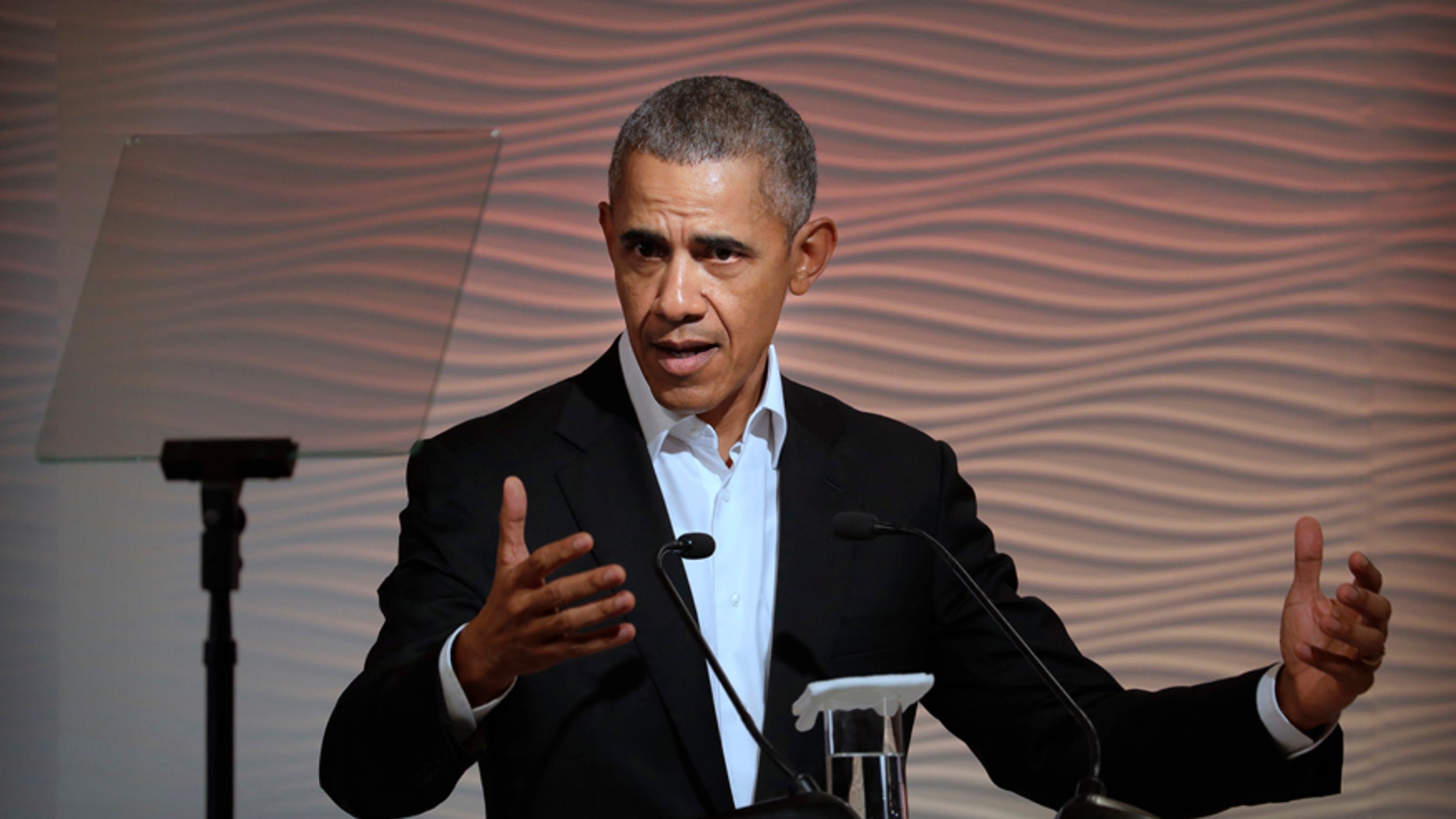 On Tuesday, Twitter released its lists of the most shared/retweeted and liked tweets in 2017 and former President Barack Obama had a significant presence on both lists, whereas tweets from President Trump were nowhere to be found.
Obama made the most-retweeted list three times, and twice on the most-liked, including one a day after the deadly protests in Charlottesville, VA. In the August tweet, which has over 1.7 million retweets, Obama quotes former South African President Nelson Mandela, writing: "No one is born hating another person because of the color of his skin or his background or his religion..."
This is also the most-liked tweet of the year, with more than 4.6 million likes.
JAMES COMEY TWEETS 'JUSTICE' BIBLE VERSE AFTER FLYNN PLEADS GUILTY
Obama also had two other tweets on the most-retweet list, including one several days before he stepped down from the presidency and one on the day he handed the presidency over to Trump.
There was also one on the most-liked list, with Obama expressing a message of condolence and prayer to Sen. John McCain R.-AZ., who is battling glioblastoma, an aggressive form of brain cancer.
Though Obama has a significant presence on the list, he did not have the most-retweeted tweet of the year. That distinction went to Carter Wilkerson, who asked Wendy's how he could get free chicken nuggets for life.
Retweets or likes are often seen as a sign of endorsement of the message. Despite that, there are many people on the platform, including journalists, celebrities, athletes and other heavy Twitter users who do not subscribe to that line of thinking.
While Obama has a much higher number of followers on Twitter than Trump, 97.6 million compared to 44.1 million for @realdonaldtrump, both men use it in very different manners. As President, Trump retains the rights to the @POTUS account, which has 21.3 million followers.
KNOCKING TRUMP OFF TWITTER WAS A 'MISTAKE', EX-EMPLOYEE SAYS
Obama, who recently gave a speech in India, saying you should "think before you tweet" (albeit never mentioning Trump once by name), uses his account sparingly, often talking about the Obama Foundation. Trump, on the other hand, uses his account nearly every day, often harnessing the platform to discuss policy.
Trump was mentioned on the list once, however, with NBA star LeBron James calling him a "bum" after he disinvited the Golden State Warriors and its star, Steph Curry, from attending the White House.
Here are the most-retweeted tweets, as provided by Twitter.
Here are the most-liked tweets, as provided by Twitter.
Trump, however did top two lists compiled by Twitter, including one for "most tweeted about elected world leaders" and "top tweeted US Elected Officials."
Most Tweeted about elected world leaders
1. @RealDonaldTrump
2. @narendramodi
3. @NicolasMaduro
4. @RT_Erdogan
5. @EmmanuelMacron
6. @EPN
7. @mauriciomacri
8. @theresa_may
9.  @JuanManSantos
10. @jokowi
Top Tweeted US Elected Officials
1. @RealDonaldTrump
2. @VP
3. @SpeakerRyan
4. @BarackObama
5. @TedLieu
6. @SenJohnMcCain
7.  @SenWarren
8. @SenateMajLdr
9. @SenSanders
10. @SenSchumer
Follow Chris Ciaccia on Twitter @Chris_Ciaccia