NRA event: Inside the acres and acres of guns on display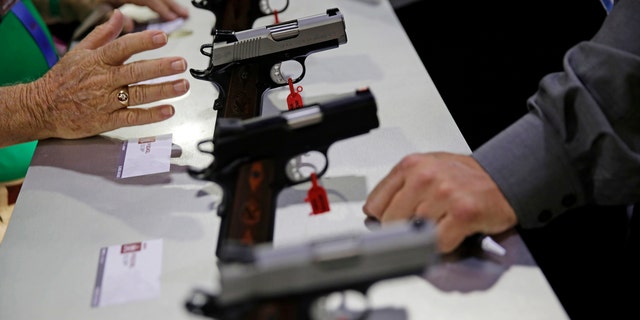 More than 80,000 Americans are converging in Atlanta for the 146th NRA Annual Meetings and Exhibits in Atlanta, Georgia that kicks off Friday.
The NRA describes the event as a four-day celebration of freedom. It combines high-powered speaking events featuring Second Amendment advocates with country music concerts, meetings, workshops, celebrity sightings, parties – and acres and acres of guns on display.
One of the world's largest shooting, hunting and outdoor shows, this year's event is being held at downtown Atlanta's Georgia World Congress Center, with more than one million square feet of exhibit space, next to the Centennial Olympic Park.
More than 800 companies are showcasing a wide range of products with something for every budget, every terrain and every purpose. It is a smorgasbord of pistols, rifles, carbines, shotguns, ammo, holsters, optics, hunting gear and much, much more.
THESE NEW KINDS OF BULLETS ARE LETHAL UNDERWATER
Alongside the NRA members and Second Amendment supporters exploring the weapons and products on offer, a number of celebrities pitch up every year and can be seen walking the floors and signing autographs.
What can you see?
Among the 15 acres of guns and gear on display, there are well-known large brands, old-fashioned American-founded and run family companies, brand new companies and first-time exhibitors.
New reveals for 2017 act like lightning-rods to the attendees navigating their way through the acres of weapons.
In addition to innovations for shooters and hunters, there is also a strong showing this year in new options for women, youth and police officers.
US MARINES COULD DEPLOY ROBOTS AND 'HYPERSUBS' TO STORM FUTURE BEACHES
On the firearms front, brands like Glock, Kimber, Sig Sauer, Colt, Taurus, Remington, FN America, Savage Arms and Ruger are out in full force.
Other big names with big displays showcasing their weapons are Browning, C-Z USA Daniel Defense, Beretta, Benelli, Smith & Wesson, Winchester, Weatherby, Walther and Springfield Armory.
Learn must-know tips from a top firearms instructor for Special Operations units.
Additional titans like Brownells, Magpul, Safariland, 5.11 Tactical and Cabela's drew buzz from the moment the doors opened too.
And in optics and scopes, companies like Nightforce, Trijicon, Leupold, Aimpoint and Surefire already began drawing crowds from the word go.
HERE'S HOW 'INVISIBLE ARMOR' COULD DEFEAT BULLETS AND BLADES
There is no shortage of ammunition options here, with a wide array of companies in attendance. Winchester, Remington, Hornady, Federal Premium, Nosler…they're all here.
Go inside this SEAL Team 6 Sniper's Adventures.
Big Events
The annual event always features a number of high-powered speakers – and this year is no exception. The President of the United States Donald Trump is speaking Friday. This will be the first time since President Reagan that a president has appeared at the event.
The annual NRA convention is also known for popular country music shows. This year there is a NRA Country Jam: Story Behind the Song featuring Chris Janson, Josh Thompson, Lindsay Ell, and Cary Barlowe.
On Saturday night, country superstar Hank Williams, Jr. will be playing with Lee Brice to open the concert.
INCREDIBLE TECH DETECTS GUNFIRE ACROSS AMERICA
Women's events also feature prominently. On Friday, for example, Counselor to President Trump Kellyanne Conway will deliver the keynote at the Women's Leadership Forum reception, luncheon and auction.
Those participating in the 2017 NRA Annual Meetings & Exhibits can carry firearms in the Georgia World Congress Center and the Omni Atlanta Hotel at CNN Center in accordance with Georgia law. The NRA has been reminding folks that firearms are not allowed in the remainder of the CNN Center, including the food court and shops.
And for President Trump's address, the Secret Service announced a series of restrictions for security purposes – and this includes the prohibition of weapons brought into the theatre where he will be speaking.
What is the NRA?
The NRA is a nonprofit organization with several million members that advocates for gun rights. It supports the American right to bear arms. This is rooted in the Second Amendment in the Constitution of United States of America that states "A well regulated Militia, being necessary to the security of a free State, the right of the people to keep and bear Arms, shall not be infringed."
FOR THE LATEST TECH FEATURES FOLLOW FOX NEWS TECH ON FACEBOOK
The NRA leads in firearms education for civilians with more than 125,000 certified instructors. These NRA instructors train approximately 1,000,000 gun owners each year.
A wide range of courses are available including basic rifle, pistol and shotgun training.
There are also courses on safety like "Refuse To Be A Victim" seminars that more than 100,000 men and women have attended to work on personal safety plans.
The organization also works with law enforcement. The NRA became the only national trainer of law enforcement officers with the NRA Police Firearms Instructor certification program in 1960. There are more than 13,000 NRA-certified police and security firearms instructors.