North Korea suffers second Internet outage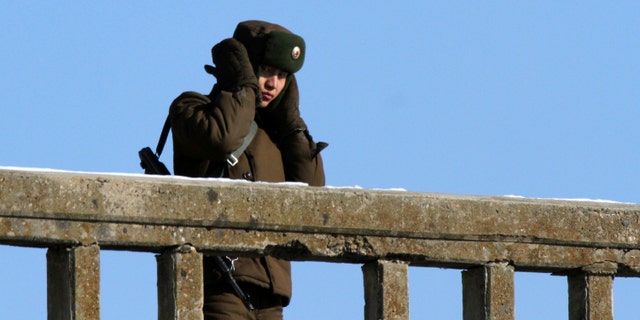 NEWYou can now listen to Fox News articles!
North Korea's Internet was down again on Tuesday, according to monitoring specialist Dyn Research, with the latest blackout coming hot on the heels of Monday's widespread nine-hour outage.
Monday's nine-hour denial of service exposed the vulnerabilities in North Korea's limited web infrastructure just days after Pyongyang was blamed for the cyberattack that crippled Sony Pictures.
The country's Internet problems continued on Tuesday, with reports of another outage. Early on Tuesday Dyn Research tweeted that "North Korea continues its struggle to stay online," and noted another outage at 10:41 a.m. ET. The country's Internet was restored again at 11:12 a.m. ET, although the monitoring specialist said that "connectivity problems continue."
Dyn Research reported late Monday that North Korean websites were back online after a 9 hour, 31 minute outage. The outage came less than a week after the U.S. vowed an unspecified response to a massive hacking attack against Sony Pictures Entertainment over the release of the comedy film "The Interview."
On Dec. 19 the FBI accused North Korea of launching the attack against Sony Pictures.
The White House and the State Department on Monday declined to say whether the U.S. government had any role in North Korea's Internet problems.
Dyn Research notes that nine-hour outages are not unheard of in North Korea given its limited Internet infrastructure.
"It's a rare event these days when an entire country leaves the Internet," it said, in a statement. "Even so, when North Korea's four networks went dark, we were not entirely surprised, based on the fragility of their national connectivity to the global Internet."
North Korea's four networks are routed through Chinese telecom giant China Unicom, according to Dyn Research. With around 25 million people, North Korea's Internet backbone is miniscule compared to other countries with similar populations. Yemen, Afghanistan and Taiwan, for example, have 47, 370, and 5,030 networks, respectively.
Arbor Networks, a network security company, noted 29 attacks on the North Korean government owned and operated sites between Dec. 18 and Dec. 22. These include an attack on Kim Il Sung University, the country's first university website.
While speculation is rife that the U.S. launched a denial of service attack on North Korea, Dan Holden, director of Arbor's Security Engineering and Response Team (ASERT) said that this is unlikely.
"I'm quite sure that this is not the work of the U.S. government," he explained, in a blog post. "Much like a real world strike from the U.S., you probably wouldn't know about it until it was too late. This is not the modus operandi of any government work."
Holden also pointed to a post on file sharing site Pastebin purportedly containing IP data related to the North Korean cyberattack. "This is typical of hacktivism information sharing and would match up very well with recent online chatter," he said.
Hacking group Anonymous, for example, has already threatened North Korea following Sony's decision to pull "The Interview." Lizard Squad, a group that claimed responsibility for a Sony network hack earlier this year, has also claimed responsibility for the cyberattack on Pyongyang.
Recent events have shined a spotlight on North Korea's limited web infrastructure.
Only a very small number of people among North Korea's elite use the Internet, as the rest of the world knows it. A slightly larger group of privileged North Koreans can see a tightly controlled Intranet called "Kwangmyong," meaning "Bright."
On this self-contained, authoritarian alternative to the World Wide Web, chats and emails are monitored and content comes pre-filtered by the state.
The Intranet provides a connection between industry, universities and government. Its role seems to be to spread information, rather than for commerce, entertainment or communication, Will Scott, a computer science instructor at Pyongyang University of Science and Technology, told the AP in February.
It is unclear how many Internet-connected devices are used in North Korea. But it's likely that the number of Internet users is small considering that the country has only 1,024 Internet Protocol addresses for a population of 25 million, according to So Young Seo, a researcher at South Korea's state-run Korea Information Society Development Institute.
Cell phone use in North Korea also is controlled by the government. While mobile phones are now a popular gateway to the Internet in South Korea, for North Koreans cellphones are used for domestic calls. They can't access the Internet or make overseas calls.
The Associated Press contributed to this report.
Follow James Rogers on Twitter @jamesjrogers