New Navy weapons tactics sharpen prep for major warfare on the open sea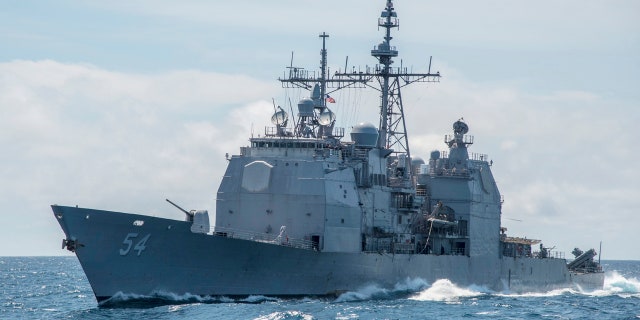 The Navy is making an aggressive push to explore and refine the new combat tactics, offensive weaponry and networking technologies needed for modern warfare on the open seas - as part of a service-wide strategic initiative to prepare the fleet for major ocean combat against increasingly high-tech enemies.
The San Diego-based Naval Surface and Mine Warfighting Development Center is moving quickly on new ocean warfare training to help the US Navy "regain sea control in great power competition," Lt. Cmdr. Seth Powell, program manager, Warfare Tactics Instructor Program, told Warrior Maven in an interview.
The 15-to-17 week courses place sailors on surface ships in combat-like scenarios intended to mirror the most advanced current and future enemy threats they are likely to encounter. Course leaders say the training involves a concentrated, in depth focus on weapons systems likely to be used by potential enemies.
"One of the big things we focus on is exactly what tactics we have to take into account, given the capabilities of the enemy," Powell said.
Adjusting to a fast-evolving threat environment, involving technologically sophisticated adversaries, requires course participants to experiment with new Tactics, Techniques and Procedures necessary to meet as-of-yet unprecedented kinds of attacks.
"How do we take ready ships and turn them into more lethal ships? We put everything they have learned on the ships and out at sea," Powell said.
The current courses have in part been put together through Warfighter Tactics Instructor training, preparations aimed at breaking the training down into specific warfare focus areas including integrated air and missile defense, surface warfare and amphibious warfare; the Navy plans to stand up a mine warfare program next year.
Lessons learned and findings from the Naval Surface and Mine Warfighting Development Center training are expected to inform the development of Navy doctrine as well as the acquisition priorities needed for future war scenarios, Powell added.
"As we bring advanced systems online, we are thinking about how to utilize them with advanced tactical training," he said.
Some of the particular kinds of enemy weapons these courses anticipate for the future include a range of emerging new systems - to include lasers, rail-guns and long-range missiles, among other technologies.
Not surprisingly, these courses appear as somewhat of a linear outgrowth or tactical manifestation of the Navy's 2016 Surface Force Strategy document. Tilted "Return to Sea Control," the strategy paper lists a number of specific enemy threat areas of concern focused upon by course trainers.
Examples of threats cited by the strategy paper include "anti-ship ballistic and cruise missiles, integrated and layered sensor systems, targeting networks, long-range bombers, advanced fighter aircraft, submarines, mines, advanced integrated air defenses, electronic warfare and cyber and space technologies."
Much like the training courses and the Surface Force Strategy, the Navy's Distributed Maritime Operations Concept also builds upon the Navy's much-discussed "distributed lethality" strategy, in place now for a number of years. This strategic approach emphasizes the need to more fully arm the fleet with offensive and defensive weapons and disperse forces as needed.
Having cyber, space and missile weapons - along with over-the-horizon ship and air-launched weapons - are relevant to offensive attack as well as the "distributed" portion of the strategy. Having an ability to defend against a wider range of attacks and strike from long-distances enables the fleet to spread out and conduct dis-aggregated operations, making US Navy forces less vulnerable to enemy firepower.
Interestingly, the pressing need to emphasize offensive attack in the Navy fleet appears to have roots in previous Navy strategic thinking.
Part of the overall strategic rationale is to move the force back toward open or "blue water" combat capability against near peer competitors, such as that which was emphasized during the Cold War. While the importance of this kind of strategic and tactical thinking never disappeared, these things were emphasized less during the last 15-plus years of ground wars wherein the Navy focused on counter-terrorism, securing the international waterways, counter-piracy and things like Visit Board Search and Seizure.
These missions are, of course, still important, however the Navy seeks to substantially increase its offensive "lethality" given that rivals such as Russia and China have precision-guided anti-ship missiles able to hit targets at ranges greater than 900 miles in some cases. The advent of new cyber and electronic warfare attack technologies, enemy drones and the rapid global proliferation of sea mines all present uniquely modern nuances when compared to previous Cold-War strategic paradigms.
Nevertheless, the most current Naval Surface Warfare Strategy does, by design, appear to be somewhat of a higher-tech, modern adaptation of some fundamental elements of the Navy's Cold-War-era approach - a time when major naval warfare against a Soviet force was envisioned as a realistic contingency.
A 1987 essay titled "Strategy Concept of the US Navy," published by Naval History and Heritage Command, cites the importance of long-range offensive firepower and targeting sensors in a geographically dispersed or expansive open ocean warfare environment. The paper goes so far as to say the very survivability of US Naval Forces and the accomplishment of their missions depends upon offensive firepower.
"Integrated forces may be geographically distant, but their movements, sensors, and weapons are coordinated to provide maximum mutual support and offensive capability," the paper writes.
The Cold War-era Strategic Concepts document also specifies that "Naval defensive capability should include long-range detection systems such as airborne early warning, quick reacting command and control systems and effective defensive weapons systems."
More Weapons and Technology - WARRIOR MAVEN (CLICK HERE)--