NASA's Cassini probe finds 'big empty' on daring Saturn ring dive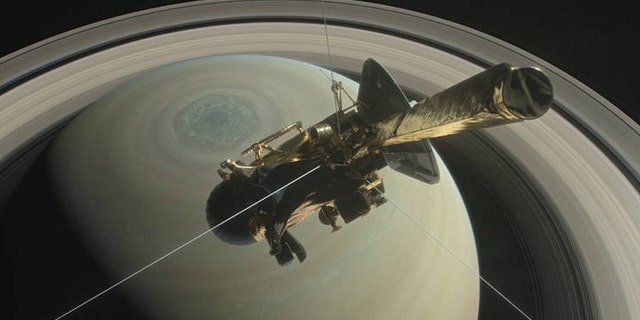 NASA'S Cassini spacecraft made the first-ever dive between Saturn and its rings last week. What the probe found stunned scientists.
Experts expected Cassini to encounter dust when it dived through the 1,200-mile gap between Saturn and its rings on April 26. To protect the spacecraft, Cassini used its dish-shaped high-gain antenna, which measures 13 feet across, as a protective shield.
However, scientists were amazed by the lack of dust in the previously unexplored area. "The region between the rings and Saturn is 'the big empty,' apparently," said Cassini Project Manager Earl Maize of NASA's Jet Propulsion Laboratory in Pasadena, California, in a statement. "Cassini will stay the course, while the scientists work on the mystery of why the dust level is much lower than expected."
NASA'S CASSINI SPACECRAFT SENDS FIRST IMAGES FROM SATURN RINGS DIVE
Cassini only encountered a few dust particles as it passed through the ring gap, according to NASA, none of which were larger than the particles in smoke. Data from sensors in the spacecraft's Radio and Plasma Wave Science (RPWS) instrument was also converted to an audio format. Typically dust particles hitting the instrument's sensors would sound like pops and cracks. Instead, scientists heard the usual whistles and squeaks of waves in the charged particle environment of space.
"It was a bit disorienting -- we weren't hearing what we expected to hear," said William Kurth, RPWS team lead at the University of Iowa, Iowa City. "I've listened to our data from the first dive several times and I can probably count on my hands the number of dust particle impacts I hear."
The spacecraft came within about 1,900 miles of Saturn's cloud tops during its epic dive and within about 200 miles of the innermost visible edge of the rings, according to NASA.
NASA FINDS HIGHEST PEAK ON SATURN'S LARGEST MOON TITAN
Cassini will make a total of 22 dives between Saturn and its rings as part of the orbiter's so-called "Grand Finale." Its most recent dive was on May 2.
The spacecraft has generated a trove of scientific data on Saturn and its moons during its mission. Last month, for example, NASA announced that Saturn's moon Enceladus could support life thanks to the discovery of hydrogen.
After almost two decades in space, the mission will end on Sept. 15 2017 when Cassini is scheduled to crash into Saturn.
TRUMP MAKES SPACE CALL TO RECORD-BREAKING NASA ASTRONAUT PEGGY WHITSON
The Cassini mission began on Oct. 15 1997 when the spacecraft launched from Cape Canaveral Air Force Station aboard a Titan IVB/Centaur rocket. Cassini arrived at Saturn in 2004.
NASA is partnering with the European Space Agency (ESA) and the Italian Space Agency on the Cassini-Huygens mission. The Jet Propulsion Laboratory (JPL), a division of Caltech, manages the mission for NASA's Science Mission Directorate.
Follow James Rogers on Twitter @jamesjrogers