Most of us are social media sinners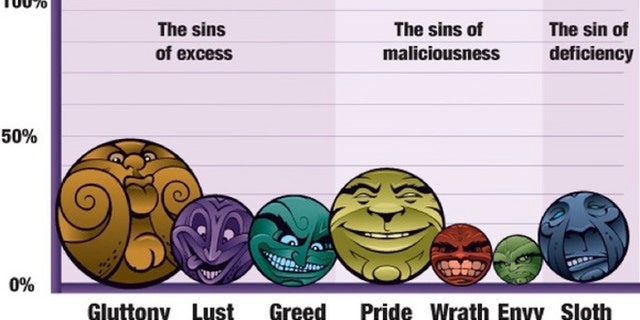 Are you well behaved on Facebook or Twitter? If so, you are rare. In a survey of 562 adults on those and other social networks, about 70 percent admitted to committing at least one of the Bible's Seven Deadly Sins: gluttony, lust, greed, pride, wrath, envy and sloth. On average, people were guilty of between two and three sins.
The survey, conducted in January by advertising firm JWT (and recently shared with TechNewsDaily), didn't ask people outright if they were lustful or greedy, but rather what they do online. How many hours do they spend on Facebook each day? (Half of people are on for an hour or more.) Or how well, on a 1 to 5 scale, do they identify with six statements, including "I could spend hours online just doing stuff" and "I would definitely go through some kind of 'withdrawal' if the Internet suddenly went away."
Those were a few of the questions that determined gluttony — defined as "content overload." It was the most common sin, with 41 percent transgressing.
Close behind was pride. About four in 10 (37 percent) copped to online arrogance, defined by identifying with such statements as "My group of friends online is more impressive than most." Or they admitted posting online something that they knew would make others jealous. (In most cases, it didn't work. At 16 percent, envy was the least-committed sin.)
While cyberbullying gets a lot of attention today (most dramatically with the guilty verdict in the Tyler Clementi webcam spying case), most people in the survey were pretty nice online. Just one-fifth (19 percent) of them were guilty of wrath.
Roughly even, at around 30 percent, were greed (craving attention), lust (what it sounds like) and sloth (texting instead of calling, for example, or being online instead of exercising).
Forget any notions of youth and innocence. People ages 18 to 24 had more offenses than most age groups. But folks ages 25 to 29 fessed up to being by far the worst (with an average of more than three sins each). "That might also be a function of the fact that these people are engaging more in social media," said Mark Truss, JWT's director of brand intelligence.
But some stereotypes hold. Far more men than women were guilty of wrath (24 percent versus 14 percent). Women were more slothful than men, however (33 percent versus 26 percent).
If there is an upshot to our sins, it might be the old saying: Only the good die young.
Copyright 2012 TechNewsDaily, a TechMediaNetwork company. All rights reserved. This material may not be published, broadcast, rewritten or redistributed.