Monster croc the size of an SUV caught in Australia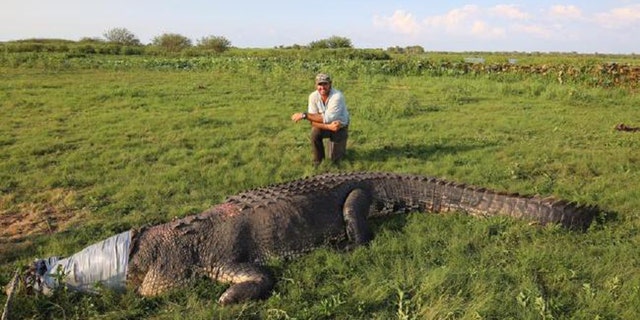 An image of a monster crocodile caught by Outback Wrangler Matt Wright has gone viral, with some animal lovers criticizing the use of duct tape to bind the animal's snout shut.
Mr Wright uploaded a snap of the saltie to his Facebook page on Saturday, and it has already attracted more than 4,000 likes and hundreds of shares and comments.
Many people were quick to point out the thick layers of tape covering the croc's snout and eyes.
Tom Miller estimated it would have taken 10 rolls of duct tape to cover the saltie's mouth.
"Did you get enough tape on him?" Sally-Jo Famlonga said. "Hope that's not staying on for too long poor boy."
Dean Adermann said he could see no reason why the monster was caught in the first place. "Leave the poor animal alone," he said.
Others were quick to jump to Mr Wright's defence.
"It's a crocodile, they've been around since the dinosaurs," Jay Ryan said.
"I'm sure he doesn't mind a bit of tape on his snout."
Rebecca De Vries praised the Wrangler's team for catching the saltie and keeping the community safe.
Andrew Buckley pointed out croc catchers moved on salties so they didn't pose a threat in populated areas, or risk being shot by people.
"Most times these crocs are being relocated as they have clashed with humans/livestock and so if good people don't relocate them, some redneck will just shoot it," he said.
When asked about the photo, Wright's publicist told Fox News:
"As a crocodile conservationist, one of Matt's efforts is to help relocate crocs that are in danger of being killed by the property owners," Wright's representatives said via email. "In this instance, this particular croc was a major threat to nearby people and livestock and had to be relocated. The crocodile's safety and welfare is always a priority and this method is the recommended way to secure the crocodile's snout by Northern Territory Parks and Wildlife."
This story originally appeared in news.com.au with additional reporting by Fox News.