Moment.Me to Capture Inauguration Festivities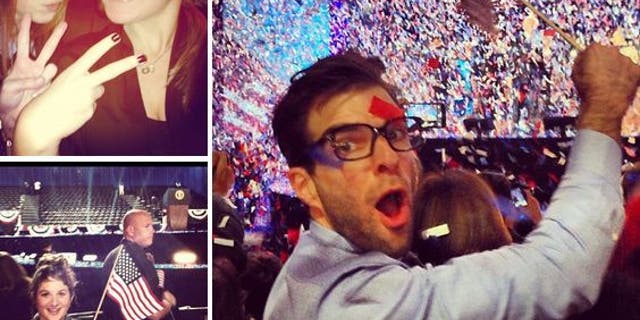 NEWYou can now listen to Fox News articles!
Even if you don't have a ticket to one of Monday's presidential inaugural events, you can see the festivities unfold from attendees who will be posting photos and tweeting on various social networks.
Moment.me , an online service that gathers users' photos and organizes them into neat stacks as they're posted, has announced that its website will host an inaugural channel.
Once each event begins, starting with the ceremonial swearing-In ceremony on Capitol Hill at 11:30 a.m., a "moment" will be activated as users share their experiences. Moments have been created for the afternoon parade down Pennsylvania Avenue and for each of the 24 evening galas.
The beauty of Moment.me is that once you sign up, the photos you share on Instagram , Picasa, Flickr, Google+ and Facebook, as well as your tweets, are automatically sent to Moment.me and sorted by event or moment without the need for hashtags. The service automatically organizes your photos along with others at the same event, and they can then be viewed by you and your friends. For big public events such as the inauguration, Moment.me creates a public moment so that all user photos from the event are included in the pool.
To get an idea of what a moment looks like on Moment.me, here's President Barack Obama's re-election moment.
While the president has scaled back the celebration — 600,000 to 800,000 participants are expected, compared with the 1.8 million who attended Obama's first inauguration — the rise in social media sharing may compensate for fewer guests.
"We think the parade will see the most photos," Peter Moran, a spokesman for Moment.me, told TechNewsDaily. He said that once a moment begins, users will be able to see photos and tweets as they're shared. He also suggested that people check back on the inaugural event pages because it often takes users some time to post the photos that are sitting on their camera rolls.
The 2013 Presidential Inauguration moments can be viewed on the Moment.me website or an iOS mobile device and also can be embedded directly into a blog or website. You must sign in to Moment.Me to view moments. When the event begins, head over to Moment.me's inaugural page to copy the embed code and then paste it into your own site. Photos will be added automatically.
Big news for Android owners
The Moment.me app is available for free in the App Store. For now, Android users can participate only online, but that is set to change. Moran said an Android app will be launched in early February. Better yet, it will have new features unavailable in the iOS version (although the developers will "circle back" and add them to iOS sometime after the Android launch, he said).
Copyright 2013 TechNewsDaily, a TechMediaNetwork company. All rights reserved. This material may not be published, broadcast, rewritten or redistributed.