MacBooks getting old but update should make faithful happy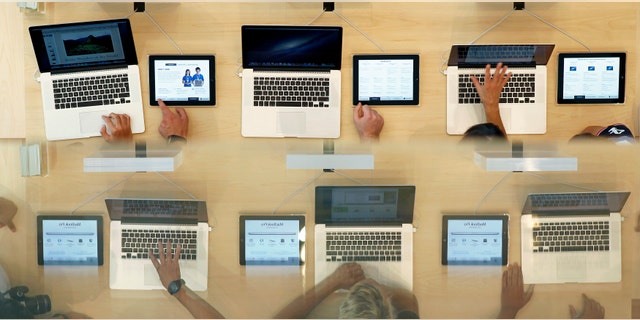 Apple's MacBook line is in dire need of a refresh. But the update should satisfy the Mac faithful when it finally arrives.
How dire has it become? "They should have done it a long time ago," Ryan Smith, editor in chief of tech site Anandtech, told FoxNews.com in an email, referring to the MacBook Pro line.

"Most models are full price yet years out of date, and that makes buying old models bad investments for consumers," he added.
Which is what most product review sites have been telling readers for months. Laptopmag.com is just one example: "5 Reasons You'd Be a Fool to Buy a MacBook Now," is the headline of an article that lists reason No.1 as: "The current MacBooks are extremely outdated."
The most decrepit of the aging MacBooks is the Pro line, which hasn't seen a major redesign in almost five years.
The tardiness of the updates is not just impacting consumers. "I'm hearing of developers considering abandoning the platform because it interferes with their [development] tools," Roger Kay, president of Endpoint Technologies Associates, told FoxNews.com.
MacBook Pro owners are particularly sensitive to performance, another area where Apple is falling behind.
"A new MacBook Pro is very much needed to catch up on GPU [graphics processing unit] performance and efficiency," Daniel Matte, an analyst at market research Canalys, told FoxNews.com. The 15-inch MacBook Pro needs a new Intel CPU chip too: it's still saddled with an Intel processor that's two generations behind the chipmaker's newest "Kaby Lake" processors.
When?
The most pressing question is, of course, when will the new MacBooks arrive.
"Production started in the second calendar quarter on refreshes of the 13.3-inch and 15.4-inch MacBook Pro [and] the 13.3-inch MacBook Air," Rhoda Alexander, director, tablet and notebook PCs at IHS Markit Technology, told FoxNews.com
Alexander expects the new MacBook Pros and MacBook Airs to launch by the end of this month. That, however, doesn't leave much time as we're about halfway through October now.
Lots of new features expected
The refreshed MacBook Air line should include new USB-C connector technology (now found on the ultra-thin 12-inch MacBook), according to a report from Bloomberg in August.
The redesigned MacBook Pro, meanwhile, will be thinner and have a flatter keyboard, Bloomberg said.
The most widely cited (and speculated) MacBook Pro feature is a new-fangled, OLED display-based "dynamic" set of function keys that shows a virtual representation of the keys based on the task the user is doing. Other likely features for the MacBook Pros are the addition of USB-C ports and Touch ID fingerprint identity sensors, possibly next to the new function key display.
Also, a new rumor – deemed "questionable" by MacRumors – cites a keyboard that uses an e-ink display underneath the keys that changes dynamically to fit the needs of the user. If the technology appears at all in MacBooks or in Mac keyboards it wouldn't happen until later, possibly 2018.
Questionable rumors aside, don't hold your breath for Intel's latest and greatest processor in the new MacBooks. "Given the timing of the start of production, inclusion of [Intel's] Kaby Lake chip appears unlikely," IHS Markit's Alexander said, adding that it's possible that Apple opts for previous-generation Skylake chips.
Canalys' Daniel Matte adds that Apple is likely to include an option for AMD's latest "Polaris" graphics processors in the new MacBook Pros.
Apple did not respond to a request for comment.