LG: more OLED TVs are coming this year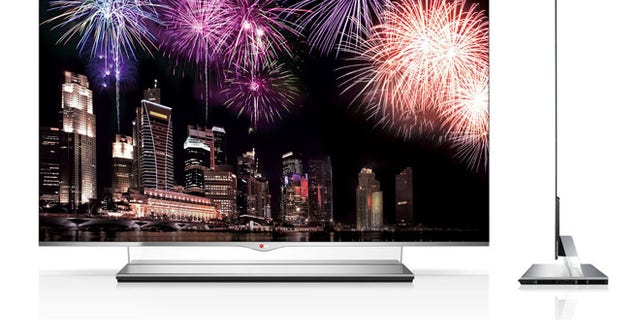 As if showcasing a 105-inch Ultra HD (UHD) TV next week at CES isn't enough, LG will also be unveiling three new OLED TVs at the technology trade show, including a 77-inch OLED TV with a curved UHD screen.
We'll have to wait until Monday, though, to find out how these new sets will be priced. The 55-inch OLED TVs released last year by LG and Samsung are now selling for about $9,000.
Though we expect to hear a lot of news about new UHD TVs from many brands at CES, companies have been much quieter about their plans for OLED TVs; these models combine some of the best attributes of plasma and LCD sets, with nearly none of their respective weaknesses. The 55-inch OLED TV from Samsung (KN55S9C) we tested last year was probably the best TV we've ever reviewed. Unlike UHD TVs, which are essentially LCD TVs with higher 4K (3840x2160) screen resolutions, OLED TVs require a new manufacturing process, so we expect prices to remain relatively high for the near future.
As a result, OLED TVs will make up a fraction—fewer than 50,000—of the 34 million TVs expected to be sold this year in the U.S., according to estimates. Nonetheless, LG Electronics seems to be bullish on the technology, showing off three new models at CES, including the largest OLED TV so far announced: a 77-inch set (model 77EC9800) with a curved, Ultra HD (UHD) resolution screen.
Its no surprise that the 77-inch set will be loaded with features. In addition to its UHD resolution—and HDMI 2.0 inputs (for 60 fps video) and built-in decoding for the new HEVC (H.265) video format (the TV will have LG's smart TV platform)—there is speculatioin that it will use the new webOS technology LG acquired from HP last year, as well as its passive-3D capability.
Shopping for a new television? Check our TV buying guide and Ratings for tips and advice.
That giant model will be joined this year by LG's new 55- (55EB9600) and 65-inch (65EB9600) OLED TVs with curved screens, plus a 55-inch flat-screen OLED set (model 55EA8800) that has a look LG calls its Gallery design. LG says it designed the 55-inch flat Gallery OLED to be a showpiece in the home, even when you're not watching TV. The TV has a feature, called eGallery, which can display well-known works of art (included with the TV), basically turning the TV into a large (and expensive) picture frame. There's also a mode called Healing & Remembering that uses sounds and images to create an atmospheric room ambience. The TV has a built-in 2.2-channel Canvas Speaker system that's hidden behind the frame.
All the new sets will have 4K UHD-resolution screens, and, we think, smart TV and 3D capability. The 55-inch curved-screen 1080p OLED TV LG that debuted last fall is still available for about $9,000, but we're not sure how long it will be offered, as the newer sets use fewer parts and have more recyclable materials.
We'll be heading out to CES 2014 this weekend to report on all the news coming out of the show next week. We expect a number of major announcements in all the key electronics categories, so check back for our full CES coverage.
Copyright © 2005-2014 Consumers Union of U.S., Inc. No reproduction, in whole or in part, without written permission. Consumer Reports has no relationship with any advertisers on this site.