Kuna's stylish smart security system seeks to stymie burglars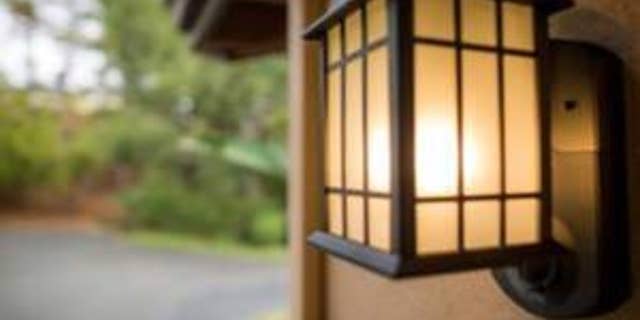 NEWYou can now listen to Fox News articles!
A new personal security system named after a peak in California's Yosemite National Park is trying to stand out in the nascent market for tech gadgets protecting the home.
Kuna Systems is marketing its product - an outdoor light with a built-in, digital camera connected to smart devices via Wi-Fi - as a prophylactic against predators. "We're pushing on the preventive angle," explained the company's Co-founder and Chief Technology Officer, Haomiao Huang. "Other security devices are for after you know a break-in has happened. They are not particularly effective."
Huang told FoxNews.com that Kuna Systems has a few former police officers as advisors and they "overwhelmingly say this is a good idea. You have to get the guy when he's outside, that's the only way to prevent them from breaking in."
The 31 year-old entrepreneur says that's why the company picked a light fixture to camouflage the camera: "There's usually one over every door," Huang reasons, adding, "It's the easiest way to install a camera without hiring a guy to come install cable and connect it."
Here's how it works: the camera is embedded in a light fixture hung near a doorway. It senses motion, sends alerts over smart devices and allows the user to see who's at the door and answer it over an intercom - whether the user is at home or on the beach - via the Kuna app.
A pre-recorded message function is in the works, according to Huang.
The company claims its technology will cut down on false alarms since it can detect and distinguish shadows and small animals from humans. It can also detect whether someone is coming or going or lurking.
The first version will run on iOS and Android smart phones and tablets, but Huang says that the company is working on making the Kuna work with wearables. That may be key for alerts and updates as more consumers adopt new technology form factors. Kuna is hardly alone in its bid to disrupt the traditional, multi-billion dollar home security model of renting or buying equipment from a company which runs hotlines and may offer patrol services. Doorbot and SkyBell both offer cameras built into doorbells.
Rob Enderle, principal analyst at the Enderle Group, notes Kuna's light fixture may seem practical and attractive - Enderle says he almost bought one - but the device actually faces some logistical hurdles. "Both of my houses just aren't set up well for using a light fixture as the camera holder," he says, explaining why he didn't purchase the device.
"The one big problem with this design is you'd typically want the camera facing the person coming to the door or gate and typically we install light fixtures high and facing out away from the house, not flanking the door like their (website) picture showcases," Enderle says, adding, "This means you'll generally have to hard wire this from scratch and depending on how your house is built, that could be expensive."
Gartner analyst Brian Blau also noted the growing number of competing home security startups, but called Kuna a "neat product", adding, "I think it gets a few extra points for trying to be stylish."
Clearly, early adopters agree it's an attractive package, as they have flocked to get their hands on the various shapes and colors the Kuna comes in. The startup has already run a successful Indiegogo campaign, nearly five times oversubscribed and raising $229,000 from more than 1,500 funders seeking to bankroll and buy the startup's eponymous security light with Wi-Fi connected camera.
The fixture won't ship until next month to these crowdfunding consumers, and won't hit retail until spring with a suggested retail price of $269, but clearly there is demand for using connected devices to protect the growing trove of digital accoutrements inside the home.
"We're pleasantly surprised (by the result of the Indiegogo campaign) and happy. We're actually in a good spot right now," says Huang.
But the executive adds that Kuna is not looking to grow too quickly beyond its core functions and production abilities. "We know other startup founders who had successful Indiegogo campaigns and it's possible to have a very successful campaign and get in over your head. We want to make sure we deliver a great product and not have production delays."
The company's pedigree includes someone who knows a little bit about broadcast signals. Kuna co-founder Sai-Wai Fu won an Emmy in the 1990s for his role in creating chips that enabled live digital TV broadcasting.
Huang says Kuna has also attracted seed funding from Silicon Valley investors including Y Combinator. These backers are looking beyond the initial launch to a more connected Kuna. "We think the software is the most valuable part of the company, it works from anywhere, and you can have video whenever you need it," says Huang.
He says the company is working on cloud-based services including video recording and the smart security system will eventually work with Nest and other components of the connected home: "It's not just one button to rule them all, it's smarter systems that share information. The combined system is smarter than the individual parts, that's the ultimate dream."