Israel Security Agency is looking for cyber ninjas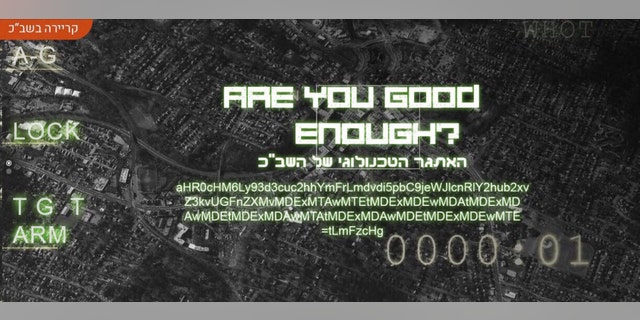 The Israel Security Agency (otherwise known by the Hebrew abbreviation – Shin Bet) has launched a new interactive website with a highly complex riddle designed to recruit potential new employees. It was launched on Thursday, on the eve of Israel's 69th Independence Day.
Almost 90,000 people have tried to solve the complicated and multilayered puzzle in the first 48 hours since it was published. Only six have managed to solve it entirely, and they will be called for a job interview soon in the organization's special technology units.
Last year, around the same time, Israel's intelligence agency, Mossad, also released a riddle on its website, and more than 25,000 participants attempted to solve it, though only a few dozen actually succeeded.
In the past year, the organization has extensively beefed up its cyber and technology units, and the cyber specialists are about 25 percent of its overall manpower.
SYMANTEC LINKS TROJANS, MALWARE TO CIA HACKING TOOLS
In its updated website, Shin Bet has included a video clip revealing their vast expertise and duties. The clip, which is made like a short version of the TV show, "Homeland," shows the behind-the-scenes of what seems like an ordinary day, but the organization's personnel and technologies are put to the test.
Among Shin Bet's duties are safeguarding state security, exposing terrorist rings, interrogating terror suspects, providing intelligence for counterterrorism operations in the West Bank and the Gaza Strip, counterespionage, personal protection of senior public officials, securing important infrastructure and government buildings, and safeguarding Israeli airlines and overseas embassies.
DALLAS HACK: DID A WHITE-HAT HACKER SET OFF CITY EMERGENCY SIRENS?
During an event honoring the organization's activities and achievements on the eve of Israel's Independence Day,Prime Minister Benjamin Netanyahu praised the organizations and its people: "I would like to express my appreciation and that of the citizens of Israel, not all of whom know everything about what you do in order to ensure the strength, security and future of the State of Israel, the state of the Jewish People. The ISA is a solid foundation of our natural strength, of the revived strength of the people of Israel."
Nadav Argaman, the head of Shin Bet, also spoke at the event, noting that security agents are constantly on alert around the clock. "The campaign that we oversee plays out daily, in complex arenas, under myriad threats that recur without respite. This requires us to be constantly prepared to fight in secret, anytime and anywhere necessary. The service is charged with this effort and there is no option, but to win this war every day," he said. "We, the personnel of the ISA, have a very significant responsibility in defending the State of Israel and its inhabitants, in thwarting and blocking terrorist threats and in upholding democracy. We will continue to do this our way – with courage, wisdom, determination, innovation, dedication, and relevancy."