Is Google Fiber all that it's cracked up to be?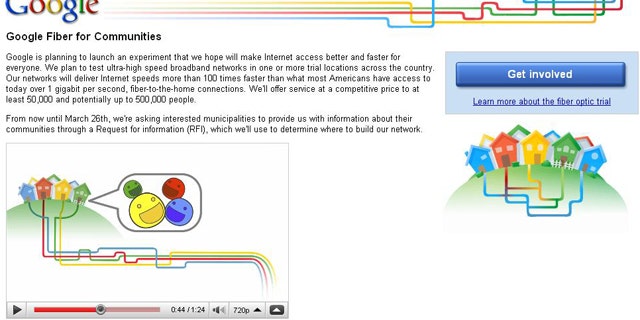 NEWYou can now listen to Fox News articles!
Compared with the average broadband speed in South Korea (22.1 Megabits per second), Japan (13.3 Mbps), and other countries, broadband speed in the United States can seem pretty slow, averaging 9.8 Mbps, according to Internet research firm Akamai. But a few American cities seem to have hit the broadband jackpot, thanks to Google's venture into the residential Internet service business. Kansas City, Kansas and Missouri, Provo, Utah, and soon Austin, Texas, are the first recipients of Google Fiber, the Internet search giant's gigabit fiber-to-the-home service offering TV and Internet packages, which promises much faster speeds than conventional broadband offers. (The Google Fiber about page touts "up to 1,000 Mb/sec download and upload.")
"This one was a no-brainer for me," said Chris Vidmar, a chemical engineer who, along with his three roommates, was among the first residents of Provo to get hooked up to Google's network. "Google Fiber was offering much faster speeds for almost the same price that I was paying previously."
Vidmar first signed up for the $70 a month Google Fiber gigabit Internet service plan and then upgraded a month later to the $120 per month plan, adding TV. Google Fiber also offers a free 5 megabits per second Internet plan, charging a one-time $30 installation fee in Provo. (Taxes and fees also apply.)
Although getting the service was quick and painless, Google Fiber technicians had to make three more visits to stamp out some bugs.
Learn how to cut your monthly TV bill, and check our our review of indoor HDTV antennas.
"They were very forgiving and worked quite tirelessly to get us up and running," Vidmar said. Once Vidmar and his roommates were all set up with Google Fiber, they tried pushing the system hard. "We have streamed 1080p HD video on four devices at once without a hiccup," said Vidmar, who added that they probably have enough bandwidth to go to 10 devices at the same time with no system problems.
Although Vidmar was promised up to 200 megabits per second with Google Fiber, his tests using Ookla Speedtest show that his average speed at home is about 50. He said the Google-provided wireless router lacks power, but his home allows each room to have a wired Ethernet port
"It is very easy to get dead spots in a house, especially a large one," Vidmar said. "If you really want to take advantage of the service, ports are a must."
Vidmar and his roommates are happy with Google Fiber, with no plans to revert to their old system. He noted the TV service is missing some perks, such as AMC and access to HBO Go, but the DVR is excellent. "I think anyone who can afford [Google Fiber] would be foolish not to take part in this opportunity," Vidmar said.
Google plans to explore the possibility of Google Fiber expansion to 34 cities in nine metro areas throughout the U.S., including Atlanta, Phoenix, Salt Lake City, and San Antonio.
—Amanda Taylor
Copyright © 2005-2014 Consumers Union of U.S., Inc. No reproduction, in whole or in part, without written permission. Consumer Reports has no relationship with any advertisers on this site.