Iran Puts Missiles on Parade in Military Showcase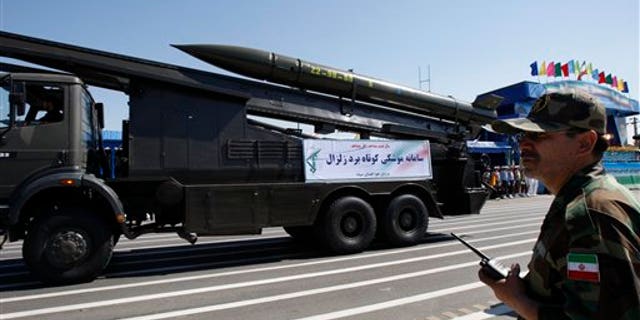 NEWYou can now listen to Fox News articles!
TEHRAN, Iran – Iran has displayed an advanced missile capable of reaching Israel at a military parade on the 30th anniversary of the start of the Iran-Iraq war.
The solid-fuel Sajjil has the longest range of any missile in Iran's arsenal, more than 1,250 miles (2,000 kilometers).
Iran has dramatically accelerated its missile program in recent years, raising international concern that it could pose a threat to Israel and U.S.-allied Arab nations, including some that are home to American military bases.
Iran test fired an upgraded version of the Sajjil in December in part to demonstrate it could deter any military strike on its nuclear facilities.
Wednesday's display included a domestic unmanned bomber aircraft that Iran's president has nicknamed the "ambassador of death."