iPad Pro review roundup: Inching closer to a laptop replacement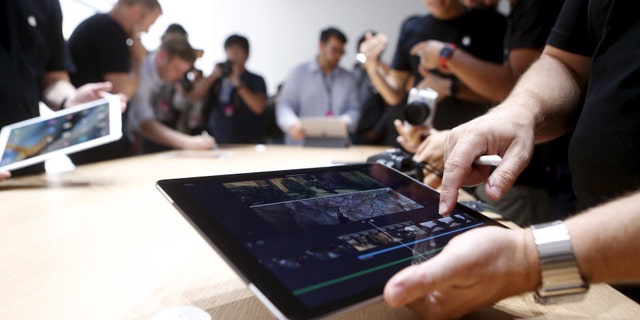 With the iPad Pro, Apple is still striving to make the tablet your primary computing device, according to the first round of reviews.

When it was introduced in 2010, the iPad immediately became a must-have. That surge of consumer interest was fueled, in large part, by a belief that you could finally leave the decades-old clamshell laptop behind. Alas, for most, that never happened definitively.

I tried for years (with every iteration of the iPad) to sideline my laptop. But here I am in late 2015 and I'm writing this on an HP EliteBook Folio 1020 laptop – not my iPad. That's because the Elitebook has a great keyboard-trackpad, boasts a touchscreen like a tablet, and weighs under 2.7 pounds – not much more than a tablet with a keyboard accessory. Products like the EliteBook have made tablets a negative-growth device category in 2015, according to tech research firm IDC.

Related: Apple's iPad Pro arrives, vies with Microsoft's Surface Book to kill traditional PCs
So, will the big 12.9-inch,1.6-pound iPad Pro revive consumer interest in the tablet and finally allow you to break your ties with the laptop? Here's what a sample of the first reviews say about the tablet.

CNET: While the iPad Pro is great for certain professionals like graphic designers, it has yet to "achieve laptop-killer status," according to CNET, which cites a lack of optimized apps and accessories (like a keyboard with a trackpad). "Right now, the iPad still can't fully replace my laptop. And it probably can't replace yours, either. But at times, it comes close," CNET said.

The review also takes issue with the high cost. The starting price of $799 is little more than a mirage after you add the Smart Keyboard ($169) and the Apple Pencil ($99).
Related: Apple's Cook says Android users bolting to iPhone - Really?

On the upside, the Apple Pencil delivers. Anyone "who draws or works with images" is going to want the iPad Pro. The Apple Pencil is "glorious" and "blows away" other styluses, CNET said.

ARS Technica: This review is also not convinced that the iPad Pro will replace your laptop, as CEO Tim Cook has been insisting at almost every opportunity this week. "Even with a bigger screen and new accessories, the iPad still feels like a 'sometimes computer,'" ARS Technica said. While the review said it's possible to leave your laptop at home and rely only on the Pro, it's not necessarily a satisfactory experience when you do that. That's because the iPad runs iOS not OS X like the MacBook. "That's true for larger things like the limited multitasking UI and the lack of a precise finger-friendly pointing tool like a trackpad," the review said.

But these limitations could be fixed later in iOS 9 or iOS 10, the review adds. "Most of [the issues] can be fixed given enough time and enough feature requests."
Related: Should Apple's iPad Pro be your next tablet?

The review had mostly good things to say about the Smart Keyboard, which provides a good typing experience and is easy to use on your lap.

The Verge: This review pretty much repeats what the reviews above say about replacing your laptop. Again, the gotcha is iOS, which is not a desktop operating system. Even the new split-screen multitasking on iOS 9 "isn't enough for lots of the 'laptop' things I need to do on a daily basis," the reviewer said. And, like other reviews, it cites the lack of a true trackpad.

The Wall Street Journal: The iPad Pro or something like it will eventually be your primary computer, the Wall Street Journal review claims. "It will be your main computer in the future," the Journal writes. In other words, as Apple improves the iPad, makes iOS more capable, and adds accessories, the laptop will quietly fade away. (It should be noted that Microsoft may have gotten there already for many consumers with the Surface Book - it's a tablet that can be transformed into a fully-functional laptop.)

The Journal had a lot of good things to say about the Apple Pencil. "Leave it to Apple to poke fun at styluses for years and then go create the new stylus gold standard," it said. "The $100 Apple Pencil enables the best digital writing and sketching experience I've ever had on a tablet."