Incredible images of Canada's 'beauty berg' cause sensation
Stunning images of a striking iceberg off the coast of Canada have caused a viral sensation.
Dubbed the "beauty berg," the ice formation was spotted off the coast of Newfoundland and Labrador by local resident Mark Gray. His remarkable pictures of the iceberg have sparked huge interest across the globe.
"Beautiful iceberg just 15 minutes away from us in Upper Amherst Cove!," he tweeted Monday, with a photo of the berg, which has a natural archway at its center.
TOWN SUDDENLY DWARFED BY MASSIVE ICEBERG
In another tweeted image, Gray captured "a close-up splash" of water perfectly framed by the beauty berg's archway.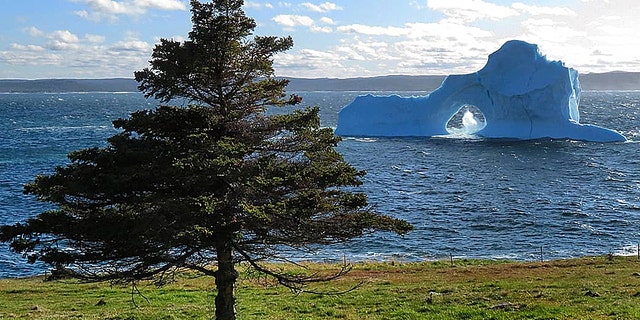 Remote Upper Amherst Cove, which is more than 3 hours' drive north of St. John's, is on Newfoundland and Labrador's ruggedly beautiful Bonavista peninsula.
Another image tweeted by Gray showed the iceberg and the peninsula's dramatic coastline.
MASSIVE ICEBERG BREAKS OFF FROM ANTARCTICA
Icebergs are formed when parts of glaciers break off. The vast majority of an iceberg's mass is below water.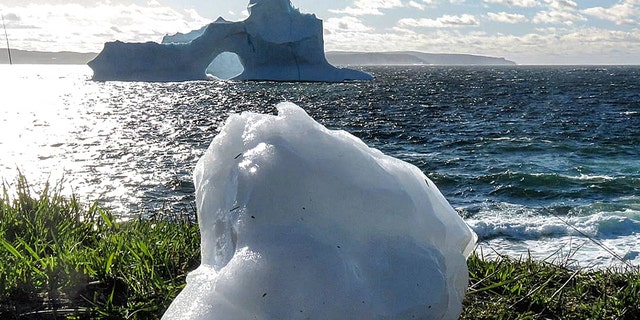 Canada's most easterly province, Newfoundland and Labrador is no stranger to incredible iceberg sightings. In 2017, people flocked to the small coastal town of Ferryland, an hour's drive south of St. John's to catch a glimpse of massive iceberg.
The "beauty berg" appeared in an area that has been dubbed "iceberg alley" as a result of the glacial formations that are clearly visible off the coast.
The province is touted as one of the best places in the world for viewing icebergs when the formations arrive in early spring. "On a sunny day, these 10,000-year-old glacial giants are visible from many points along the northern and eastern coasts," explained the Newfoundland and Labrador tourism website. "They come in every shape and size, with colors from snow-white to deepest aquamarine."
WHEN ICEBERG BROKE OFF, MARINE HABITAT HIDDEN FOR 120,000 YEARS EMERGED
"Roughly 90 percent of icebergs seen off Newfoundland and Labrador come from the glaciers of western Greenland, while the rest come from glaciers in Canada's Arctic," it added.
An iceberg 400 miles off the coast of Newfoundland and Labrador also caused the world's most famous maritime disaster. At 11:40 p.m. ship's time on April 14, 1912, Titanic struck an iceberg and sank just over two hours later with the loss of more than 1,500 lives.
The Bonavista Peninsula can be seen in the 2001 movie "The Shipping News," which is based on Annie Proulx's Pulitzer prize-winning novel of the same name.
Follow James Rogers on Twitter @jamesjrogers