Hotmail Reborn? Microsoft Overhauls World's Most Popular Email Service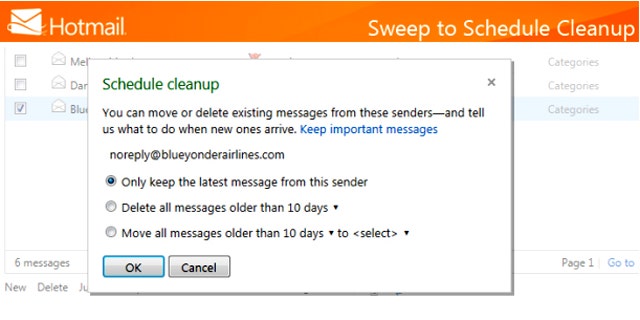 Hotmail is getting hip again.
Microsoft on Monday pushed the reboot button on the world's biggest email service, unveiling a series of new features intended to help the service's approximately 350 million users better sort through the clutter in their in-boxes.
Five new features were unveiled at Windows Live event in San Francisco, including a new tool to deal with "graymail" -- meaning newsletters and social networking updates that aren't quite spam but aren't quite legitimate emails either -- a way to automatically clean up an in-box, improved flags to move key emails to the top of the mailbox, and more.
"75 percent of email identified as spam by our customers actually turns out to be unwanted graymail that they receive as a result of having signed up on a legitimate website," explained Dick Craddock, program manager for the Hotmail service, in a Microsoft blog unveiling the new features.
To sort through those items, the company unveiled a new newsletter category that lets users flag such emails and read them at their leisure -- or simply delete the darn things. A one-click unsubscribe feature makes it easy to stop getting an unwanted newsletter as well, something that should come as a relief to those suffering from inbox bloat.
The company also unveiled a scheduled cleanup feature to keep only the latest event email from a site, only the latest deals from Groupon, or only the newest newsletter -- yet another way of keeping out the clutter.
"The war on graymail isn't just about deleting things or moving them to folders," Craddock explained. To that end, the company revamped the email service's flag feature, a handy way to track important messages by "pinning" them to the top of the inbox. You can set up rules to automatically flag messages as well.
These and other features were rolled out at a Monday event in San Francisco, CNET's News.com said, where Windows Live vice president Chris Jones explained the company's efforts to fight a negative public perception of the world's biggest email service.
Yahoo's mail service is the second biggest, with approximately 310 million users -- 40 million fewer than Hotmail. Gmail may be regarded as hip, but it has about 90 million fewer users worldwide. In the U.S., Hotmail lags, however, with about half as many users as Yahoo, CNET said.
The company promises more features in the weeks to come.
"We're just getting started," Craddock wrote.