Here are the best laptops of 2015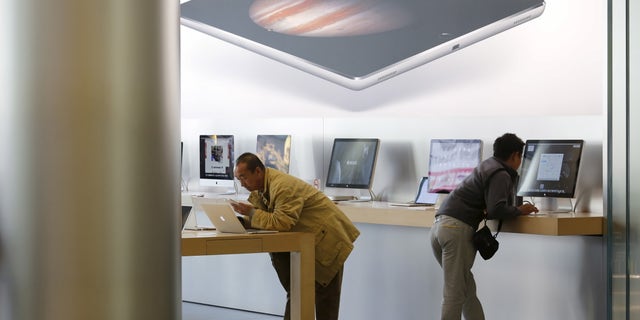 In 2015 the march continued to combine the best of the laptop and the tablet.
All of the laptops that I focus on in this best-of lineup to some degree attempt to merge the two. Some do it by using a foldable design with a touch display while others by achieving a tablet-like weight, or allowing the display to detach.
Best 2-in-1 detachable -- Surface Book: Microsoft surprised everybody with the introduction of the 13.5-inch Surface Book. The computing giant slipped in the announcement during the final moments of the Surface Pro 4 announcement in October. While the Surface Pro 4 is a tablet first, laptop second (via an optional keyboard accessory), the Surface Book tries to flip the equation: be a laptop first and tablet second. It succeeds – and is one of the most successful detachable designs to date. A detachable by definition allows the display to detach from the keyboard base to become a tablet. The problem is that most detachables in laptop mode are top-heavy (because of the relative weight of the tablet component) and require a stand to support them. In short, they fail to become a complete laptop – that is, one that can be used comfortably for long periods on your lap. The Surface Book doesn't need a stand due to an innovative Dynamic Fulcrum Hinge, allowing it to become, in effect, a real laptop. The icing on the cake is that it can also be a lightweight (for its size) stand-alone tablet. The Surface Book also has a beautiful high-resolution screen. It's also fast, packing high-performance Intel Core processors with an option for an Nvidia graphics chip. Battery life is exceptional. It's pricey though, starting at $1,499.
Related: Top 10 Smartphones of 2015
Best 2-in-1 convertible -- HP Spectre x360: Convertibles are foldable laptops with touch-capable displays (that don't detach). In 2015, Hewlett-Packard launched one of the best. The "360" refers to the fact that the display can be rotated 360 degrees, allowing it to be, for example, used in "stand mode" where the keyboard flips over onto its face and serves as a stand. Like Microsoft, HP has included a top-notch hinge. The polished, all-metal design is complemented by an excellent 13.3-inch (1,920x1,080) touch display that is bright and has good viewing angles. Other goodies: The relatively inexpensive configurations come with Intel's latest-generation Core i7 processors, a good keyboard, and an extra-wide touchpad. The 3.2-pound x 360 starts at $899.
Best ultraportable -- Apple 12-inch MacBook: Apple's newest MacBook is one of the most innovative laptops of 2015. It's just as jarring as the original MacBook Air introduced by Steve Jobs in 2008. Like the original Air, it's impossibly thin and light (about 2 pounds) and jettisons most of the standard ports on a laptop, which allows Apple to make it as slim as possible. The 12-inch MacBook has only a solitary USB-C port – the latest USB connection technology. Apple has designed the port so multiple external devices can be added via adapters, which have multiple ports. But the keyboard is where Apple did most of the innovating. In order to make a laptop a mere 0.52-inches thick (and its thickest point), Apple had to rethink the keyboard. The result is a keyboard with remarkably thin keys that are surprisingly usable. The Retina, high-resolution display is also one Apple's best to date. The 12-inch MacBook starts at $1,299.
Related: Apple iPad Pro as a gift? A one-month review to help you decide
Best full-featured slim laptop -- Dell XPS 13: Dell recently updated its stellar designed 13.3-inch XPS with the latest Intel 6th Generation "Skylake" processors. Otherwise, the physical design has pretty much remained the same – which is fine because the old saw "if it ain't broke, don't fix it" applies here. The display has an extremely thin bezel (border), allowing Dell to deliver a 13-inch laptop in a small chassis that approaches the size of a typical 12-inch laptop. To reduce chassis weight, Dell makes use of a carbon fiber composite, in addition to aluminum. The keyboard and touchpad are surrounded by a carbon fiber weave, which is not only attractive but practical. Unlike the 12-inch MacBook, it's brimming with ports for such a slim design (0.6-inches), including an SD card slot, two USB 3.0 ports, and one Thunderbolt 3 connector (supporting: VGA, HDMI, Ethernet and USB-A via Dell Adapter). It boasts one of the longest-lasting batteries of a thin-and-light laptop. The XPS 13 starts at $799.99 for a model that's 2.7 pounds with a non-touch 1,920 x 1,080 display. The higher-end, 2.9-pound XPS with a high-resolution touch Infinity Display starts $1,449.99.
Related: 12-inch Retina MacBook Review: Best MacBook yet if you believe in Apple's vision
Best light business laptop -- HP EliteBook Folio 1020: This is a personal a favorite. Weighing in at just under 2.7 pounds, the 12.5-inch laptop is fanless, like the 12-inch MacBook. To date, fanless devices have been limited to tablets and smartphones because they are simply too thin to accommodate fans (which keep more powerful laptops from overheating). 2015 saw the first crop of ultra-thin fanless laptops that, like tablets, have become too thin for a fan. Despite its diminutive design, the Folio 1020 is tough as nails, meeting stringent military reliability specifications, with an outer layer of bead-blasted aluminum that is bonded to a magnesium inner shell. Like the Dell XPS 13, it comes with a generous helping of ports, including a microSD slot, two USB 3.0 ports, and an HDMI connector. Want more ports? A sine qua none for any business laptop is a good docking station. The Folio is available with a killer HP Ultraslim Docking Station, loaded with extra ports. The docking station also saves you the trouble of plugging and unplugging cords and cables when you go mobile: just pop the Folio out of the dock and you're ready to travel. There is an option for a 2,560 x 1,440 resolution touchscreen. The Folio 1020 starts at $1,249.99.