Hands on: Google Pixel C convertible tablet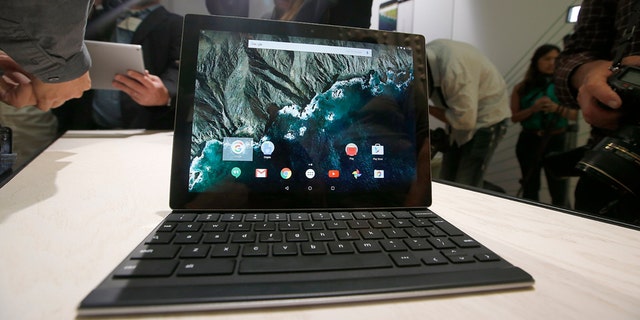 The Google Pixel C is the latest in a series of tablets that wish they were laptops. Earlier this month Apple unveiled the giant iPad Pro with a keyboard, and Google's right there with it. Both companies, it seems, think Microsoft is onto something with the Surface 3.
If you would have asked me three years ago if the Microsoft Surface would lead a sustained market-wide trend toward laptop-like tablets, I would have laughed. But it has. Everyone wants to be the Surface this year. The question is, does anyone really want an expensive tablet with a keyboard?
Magnetic and detachable
It's difficult to tell if the new Google Pixel C is a great idea, or an awful one. It feels like a greatest hits list of Windows 8 convertible failures. It's a clamshell, and the tablet is connected to the keyboard via magnets. But to open it or close it, you have to pull it apart and reconnect it. You can also flip the tablet upright and stick the keyboard to the back of it, though it makes the tablet thicker and heavier than you may like. The entire converting process is messy. Google tries to cover it all up with a beautiful aluminum design and smooth hinges that adjust angle easily. But will it be fun to use every day? I'm not so sure.
Google's new phones: Hands on: Google Nexus 6P and Nexus 5X
Google has done a good job making the Bluetooth keyboard magnets strong enough to stay together, but easy enough to pull apart with some effort. This itself is a delicate balance that few devices master. It's frustrating when an add-on keyboard falls off when you pick it up by the screen. Microsoft did a great job solving this problem with the Surface keyboard, and Google has followed the leader.
The keyboard itself is small, but it doesn't appear so small that you can't adjust to it in time. The keys have enough travel that they give plenty of click and feedback. Most impressive is how the keyboard will charge itself by grabbing a little juice from the tablet, which reps told me should pull about 10 hours of battery out of a charge. Fun feature: Tapping the tablet will cause a strip of LEDs to light up, showing how much battery is left. A USB Type C port is present, which should allow fast charging.
Too small, and is Android ready for this?
Google opted to stick with a common tablet size -- 10.2 inches -- for the Pixel C, but it has reverted to an iPad-like 3:4 aspect ratio, so it's shaped more like a piece of paper. Though, Google doesn't admit that it's 3:4. It uses a wonky, engineer-ey new way to describe it, claiming the screen has a "square root of two" aspect ratio. Explaining a 3:4 aspect ratio isn't complex enough, apparently.
In any case, the new aspect ratio is supposed to help you run two apps side by side. But 10 inches is smaller than the iPad Pro or newer Surface tablets. The result is a very small laptop that may require a lot of squinting. But you'll enjoy the squinting: The screen may have a wonky aspect ratio, but it does pack 2,560 x 1,800 pixels. Powering that screen is a Nvidia Tegra X1 quad-core processor and 3GB of RAM. These are impressive specs for a tablet, but likely do not compare to any decent laptop on the market.
The Pixel C runs the latest version of Android, 6.0 Marshmallow, which is a plus. On the other hand, Android's lack of tested multi-window support (though it has some experimental features) is also a strike against the tablet.
Conclusion
We are excited to try out the Pixel C later this year, but based on our initial experience, it may be a fun device that just isn't practical enough to recommend.
Google hasn't shown that Android is ready or well-adapted to the laptop environment. Android tablet makers have added keyboards for years, but interest has waned in those models, just as it has in most tablets. What does the Pixel C offer that's different?
Everything you missed: All the news from Google's event: Nexus 6P, Nexus 5X, Chromecast 2, Pixel C
Laptops become more like tablets every year, and tablets continue to soldier on, despite waning interest. Ultimately, someone needs to figure out how to deliver a convertible tablet that's better than the sum of its parts. I'm just not sure it's Google.
The Google Pixel C tablet alone will cost $499 for 32GB of storage, and $599 for 64GB. The keyboard will add an additional $149, which means it will cost a you a minimum of $650 for this tablet combo -- a steep price. It comes out later this fall.
Highs
Beautiful design
Runs latest Android (6.0 Marshmallow)
Lows
Android unproven for laptop computing
Screen is small
Expensive asking price
Keyboard adds heft