Google tunes into TV ... again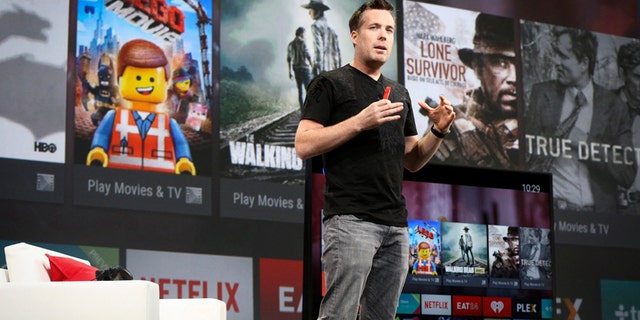 Google took its latest swipe at the home entertainment market on Wednesday with the launch of Android TV, the tech giant's new weapon in the battle for consumer eyeballs.
Google made its first foray into the home entertainment space with the launch of Google TV in 2010. An attempt to merge the worlds of TV and Internet, Google TV enjoyed support from Sony, Logitech and Intel, but hardly set the world alight.
Four years on, Android TV represents a big improvement on its predecessor, according to Rob Enderle, principal analyst at tech analyst firm Enderle Group. "This looks like what it should have been, a much better user experience, a much better connection back to other devices," he told FoxNews.com. "It really anticipates a more on-demand oriented customer."
Capable of linking up to Android devices such as smartphones, tablets and watches, Android TV also offers a voice search capability. Keen to tap into the gaming market with its latest offering, Google is touting a gamepad for playing Android games on large TV screens.
Like Chromecast, the thumb-sized media streaming device that the tech giant launched last year, Android TV supports Google Cast, a technology that lets users send content from a small computing device to a large display.
"Maybe it's third time the charm," Enderle told FoxNews.com. "The big advantages of this are really for people that want to stream – a lot of the kids that are coming out of college now are bypassing cable completely."
Clearly, Google wants to ramp up its efforts in a market where it faces stiff competition from the likes of Apple, Amazon and Roku.
However, Jack Gold, president of tech industry analyst firm J. Gold Associates, is underwhelmed by Android TV.
"I am not sure that it will be terribly successful – they have tried this before," he told FoxNews.com. "For Google, it's ultimately a play about seeing what you're watching and delivering ads."
Gold added that Google is trying to define a new market, but notes that heavyweights Microsoft, Apple, Amazon and Netflix are moving in the same direction.
Android at least has some big names in its corner. Google is partnering with Phillips, Sharp, Sony and TP Vision to build Android TV into television hardware and is working with Razer and Asus in the set-top box space.
"With this support, they are going to have a lot more shelf space," said Enderle. "Apple is going to have a hard time competing both nationally and internationally."
In addition to its TV offering, Google used its I/O developer conference in San Francisco to showcase a host of other technologies on Wednesday, including Android-based smartwatches and Android Auto for connecting phones to cars.