Facebook's Sheryl Sandberg says #MeToo hasn't gone far enough, must end 'culture of complicity'
Facebook's Chief Operating Officer Sheryl Sandberg says the #MeToo movement, which has pushed women and some men across industries and demographic lines to share stories of sexual misconduct, must address systemic sexism and lead to concrete changes.
"The question is not if #MeToo has gone too far, but if #MeToo has gone far enough," Sandberg, the author of the 2013 bestseller "Lean In," said on Bloomberg Television. "Because it can't just be a moment in time, where people raise their voice. These brave women who have raised their voices, they want longstanding change."
Social media played a key role in the nationwide growth of the movement to hold people accountable for their sexual misconduct.
SOCIAL MEDIA SURVEILLANCE UNFAIRLY TARGETED MUSLIMS, REPORT SAYS
The roots of #MeToo are in a movement started over a decade ago by activist Tarana Burke, who in 2006 founded Just Be, Inc., a youth organization focused on "health, wellbeing and wholeness of young women of color."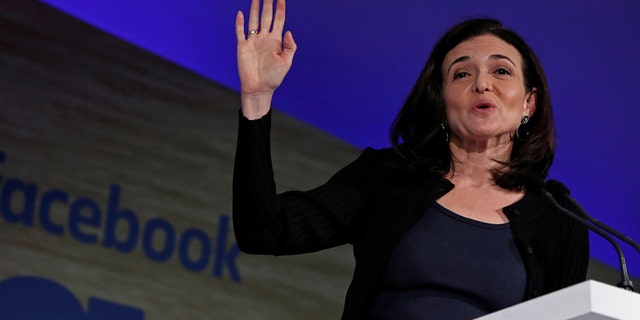 The hashtag began trending not long after actress Alyssa Milano posted a tweet that asked victims of sexual harassment and violence to make their voices heard. The hashtag had reached 85 countries with more than 1.7 million tweets by late October and there were 12 million #MeToo Facebook posts within the first 24 hours. Facebook also reported that 45 percent of users in the U.S. had a friend who had posted using the term.
Sandberg — who faced a backlash from younger women of color who don't have the benefits that come with being white and wealthy — has advocated that women need to have a seat at the table and take on leadership roles in all sectors of society.
The woman who helped propel Facebook to $40.6 billion in revenue last year also said "we need to end the culture of complicity"—which many have called out in the wake of revelations that major Hollywood and media figures engaged in sexual harassment while others turned a blind eye.
Sandberg is backing up her words with action.
Her nonprofit LeanIn.org has launched a new campaign being dubbed #MentorHer to shift the balance of power in the workplace: challenging men to mentor women in the workplace.
There's certainly work to be done. A survey commissioned by LeanIn.org and SurveyMonkey found that almost half of male managers are now uncomfortable participating in common work activities with women, including working alone and mentoring.
According to Forces, the mentorship initiative has the backing of more than 38 prominent leaders and CEOs including Disney's Bob Iger, General Motors' Mary Barra and Netflix's Reed Hastings, among others, who are all committing to mentor women at their own companies.
"We're all responsible for what's going on in the workforce," Sandberg said.