Facebook Glitch Sends Wrong Messages, Raises Privacy Questions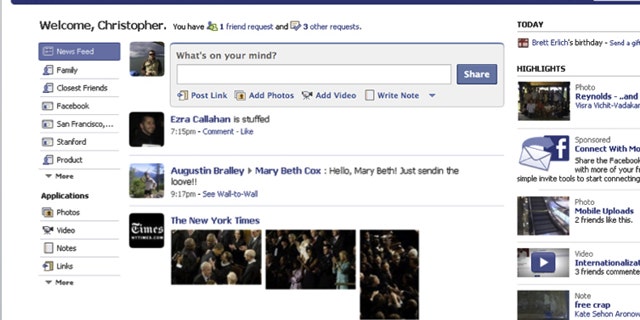 Late Thursday, in an embarrassing glitch for Facebook that raised questions about privacy on the site, some users of the social-networking service began getting hundreds of personal messages that were not intended for them.
A WSJ.com editor, Zach Seward, reported the apparent glitch after his Facebook inbox was flooded with messages ranging from the mundane to the truly private.
"I am sorry for letting my jealousy and worry get the best of me," read one of the e-mails.
Another, apparently talking about the application Love Farm, said, "just letting you know that if you would like me to plant seeds on your farm etc … I can only access it, if you steal/share one of my plants that are ready for harvest."
Even a copy of one couple's entire explicit chat session landed in Seward's account.
Some users noticed the glitch and either tried to resend the message or sent Seward notes such as "I'm sorry … I don't know why FB sent that last message to you, please disregard!"
The problem was the latest to cause concern about privacy on Facebook and other sites that allow people to share personal information over the web.
Along the way, the privacy policies of the sites came under fire, as have the sites' abilities to protect users' data. Facebook recently rolled out a new design of its inbox to make it more like Gmail's, but the most recent glitch could raise questions for users.
Seward, who received emails from about 100 people, said he was later temporarily unable to access his Facebook account.
Facebook removed all but two of the messages.
But like many Facebook users, Seward had these messages sent to his third-party email account, where they remain. He said he did not hear from Facebook regarding the glitch.
However a Facebook spokeswoman emailed the following response to Digits.
"During our regular code push yesterday evening, a bug caused some misrouting to a small number of users for a short period of time. Our engineers diagnosed the problem moments after it began and are working to get everything back in its rightful place. While they fix the issue, affected users will not be able to access the site."
The company said it was still investigating the problem and could not immediately respond to specific questions about the glitch.
It was unclear how many Facebook users were affected by the problem, but several Twitter users reported the glitch.
A user with the handle seantanu wrote, "Some bug: Facebook messages intended for others delivered to me today. 71 and counting," and colleen02127 wondered if her problem was a "facebook fail."
Silicon Alley Insider reported on the glitch Thursday and said it appeared to be affecting people who joined Facebook soon after the service started.
Seward, who joined as a Harvard freshman, was the 185th account on the site.
For more on this glitch, see the Wall Street Journal.