Facebook announces Marketplace, a way to buy and sell through their app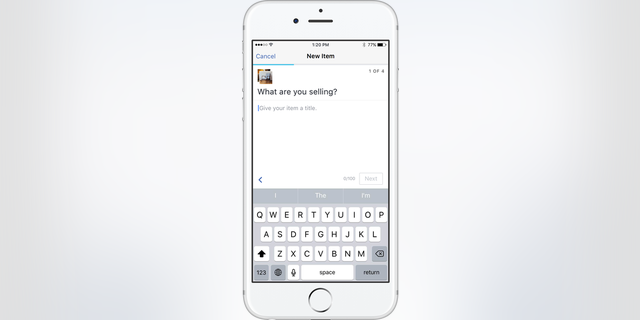 NEWYou can now listen to Fox News articles!
Facebook is taking on Craigslist as a convenient place to do things like sell an old piece of exercise equipment or buy a used gadget. On Monday the social network announced Marketplace, a new feature on its app that connects buyers and sellers.
Deals between people already happen via Facebook: The company said that monthly, over 450 million people visit Facebook groups focused on buying or selling. (Here's just one example, focused on birds.) The new Marketplace feature highlights Facebook's role as a place for commerce and gives users a straightforward destination in the app for buying or selling something. The company said that an item for sale can be both posted in the Marketplace as well as in a group.
"Marketplace makes it easy to find new things you'll love, and find a new home for the things you're ready part with," Mary Ku, Facebook's director of product management, wrote in a statement announcing the feature.
Right now the feature is coming through the app to adults in the United States, United Kingdom, Australia, and New Zealand. Facebook said it will expand to other countries and bring the service to the desktop version of the social network sometime, too.
The feature uses location services to figure out what's being sold nearby a user, but people can also search for specific items. Buyers and sellers can direct message one another to arrange the details of the exchange of goods and money; Facebook said they won't help with that part.
A Facebook representative said in an email to FoxNews.com that including a photograph is a required part of selling an item, so dust off that old elliptical machine and make sure it's in good lighting before snapping a pic.
Follow Rob Verger on Twitter: @robverger