Experts plan world's biggest sailing cargo ship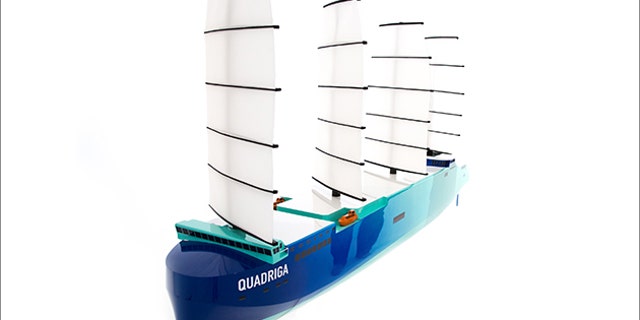 The Quadriga sustainable shipping project aims to build the world's largest cargo sailing ship, which could carry up to 2,000 cars.
Quadriga, which was first announced by German firm Sailing Cargo, aims to become the world's first and largest sailing cargo ship. UK-based marine classification specialist Lloyd's Register announced last week that it has joined the project.
Lloyd's Register wrote on its website that the vessel will be equipped with four DynaRig masts, which are modern versions of sailing ships' square-rigged masts. It is expected to operate on hybrid propulsion with sails and diesel-electric engines. In addition, when carrying peak loads, the vessel will have an optional battery system.
The vessel, which is 558-feet long, will be capable of sailing at between 10 and 12 knots. It is expected to reach 14-16 knots in the next few years, according to Lloyd's Register.
"It's a very exciting initiative to be involved in. It's always motivating for us to be involved from the concept stage of any project, especially those that involve innovative technology and new ways of doing things," said Nico Dettmann, Lloyd's Register's marketing and sales manager for Central and Eastern Europe, Marine & Offshore, in a statement. "We have a long history of working with and supporting our clients to bring their new and novel concepts, safely and robustly from inception to operational reality."
Lloyd's Register believes that wind-assisted propulsion can provide realistic renewable power in the shipping industry. According to the organization's study Low Carbon Pathways 2050, in order to reach the Paris Agreement's low emissions requirements, low-carbon ships will be necessary.
FUTURISTIC CARGO VESSEL LOOKS TO REVOLUTIONIZE SHIPPING
"We must do the right thing for the future of our industry; the Quadriga project combines traditionally proven systems with cutting edge technology and aims to provide a solution to reduce CO2 emissions," said Uwe Köhler, founder of the Quadriga project.