Experts harness tech to reconstruct face of 'witch' who died over 300 years ago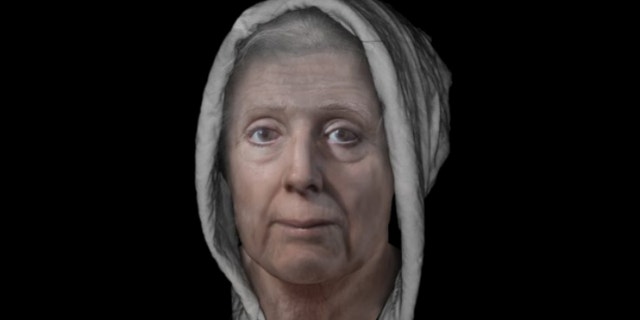 Experts in Scotland have used 3D technology to reconstruct the face of an 18th-century 'witch.'
Lilias Adie, from the village of Torryburn in Eastern Scotland, died in prison in 1704 after she had "confessed" to being a witch and having sex with the devil, according to the University of Dundee, which worked on the reconstruction project.
Adie had been sentenced to be burned to death, but died before the sentence could be carried out. One theory suggests that she committed suicide. Records suggest that she may have been in her 60s at the time of her death.
ENGLAND LAUNCHES HUNT FOR 'WITCHES' MARKS'
The University of Dundee's Centre for Anatomy and Human Identification worked with BBC Radio Scotland's Time Travels show to recreate Adie's features.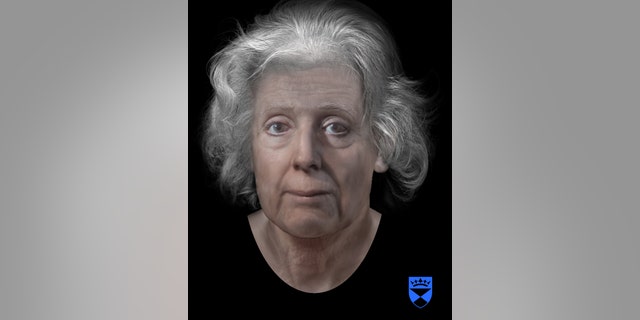 Dr. Christopher Rynn, a lecturer at the Centre, harnessed 3D virtual sculpture technology to "unmask" Adie.
"As the facial reconstruction progresses in a stepwise, anatomical manner, the face begins to appear; and once the skin layer is there, it's a bit like meeting a person, in that the brain suddenly begins processing the image as a 'face'," he told Fox News, via email. "You feel a kind of 'recognition reaction' as they start reminding me of people, even before the photo textures are added."
SECRET GHOSTLY PORTRAIT OF MARY, QUEEN OF SCOTS, DISCOVERED BENEATH 16TH-CENTURY PAINTING
Experts believe that Adie's face is the only accurate likeness of a Scottish "witch" in existence. As most were burned, scientists are unable to use their skulls to reconstruct their faces.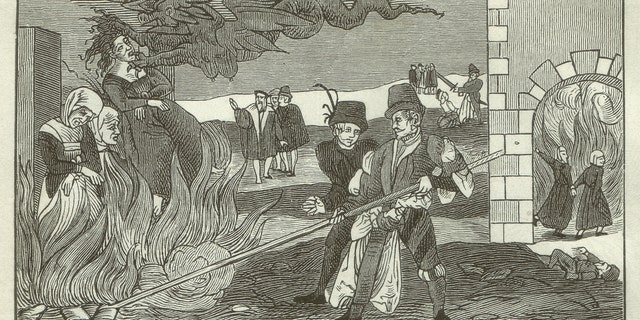 Adie's remains were buried on a beach under a large stone, perhaps indicating that local people were afraid she would return to haunt them. The bones were exhumed for study in the 19th century and Adie's skull was taken to Saint Andrews University Museum, where it was photographed over 100 years ago.
At some point in the 20th century, the skull went missing, but the images are held in the National Library of Scotland. The photographs were used to create the reconstruction of Adie's face.
LONG-LOST DARK AGE KINGDOM DISCOVERED IN SOUTHERN SCOTLAND
Rynn told Fox News that he was approached about the project in early summer and has been working to reconstruct Adie's face for a few months. The forensic specialist is an expert in identifying human remains where primary methods such as DNA analysis, fingerprinting, dental records and x-ray matching fail. However, reconstructing Adie's face without a skull was no easy task.
"In this case, the skull of Lilias Adie was lost: there were just those 2 photographs remaining, so I first had to make a 3D skull, based on the photographs," he explained, via email. "This was done by finding a similar skull, taking a 3D scan, then manually distorting it to fit the 2 photos."
Rynn carefully considered the expression on Adie's face. "There was nothing in Lilias' story that suggested to me that nowadays she would be considered as anything other than a victim of horrible circumstances, so I saw no reason to pull the face into an unpleasant or mean expression and she ended up having quite a kind face, quite naturally," he said, in a statement.
RARE ROMAN COIN DISCOVERED ON REMOTE SCOTTISH ISLAND
Records from Adie's accusers paint a picture of a frail woman with failing eyesight, according to the University of Dundee. They also show her resisting her accusers' attempts to name other people for interrogation.
"Lilias said that she couldn't give the names of other women at the witches' gatherings as they were masked like gentlewomen," said Louise Yeoman, historian for the Time Travels show, in a statement. "She only gave names which were already known."
Technology is playing an important role in shedding new light on Scotland's rich history.
DARK AGES FORT BUILT BY MYSTERIOUS 'PAINTED PEOPLE' FOUND IN SCOTLAND
Experts, for example, recently discovered a secret portrait of Mary, Queen of Scots that has been hidden for centuries — beneath another painting.
X-ray technology was used to reveal the ghostly unfinished portrait of the Scottish Queen, who reigned from 1542 to 1567. Convicted of treason against Queen Elizabeth I of England, she was beheaded at Fotheringay Castle in England in 1587.
Mary's portrait was painted over with a portrait of Sir John Maitland, 1st Lord Maitland of Thirlestane.
SCOTTISH PRISONERS OF WAR FROM 17TH-CENTURY BATTLE TO BE REBURIED
Archaeological finds in Scotland have also offered insight into the country's history. Earlier this year, for example, experts announced the discovery of a rare Roman coin on a remote island in the Orkney archipelago. Archaeologists and volunteers also found the location of a long-lost early medieval kingdom in southern Scotland.
In 2014, a stunning hoard of ancient silver, believed to have been used as bribes by Romans, was discovered with a metal detector by a teenager in Dairsie, in the Scottish region of Fife.
Follow James Rogers on Twitter @jamesjrogers