Dude, you're getting a $50 computer: The reinvention of Dell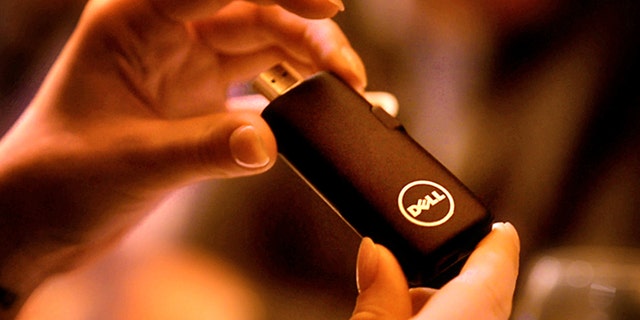 Bye, bye, desktop. Hello, thumbtop?
After becoming a household name by selling a gazillion PCs since the '90s, Dell's influence and reputation have waned in recent years. To be sure, the Texas-based company still moves a lot of desktops to companies and office workers, where keyboards and mice still hold favor. But Dell's consumer business is quickly being replaced by smartphones and tablets made by other manufacturers, namely Apple, Samsung and Amazon. What's a PC maker to do?
For one thing, a $24 billion deal to go private. For another, killing the desktop computer.
'Not only is Ophelia a modern computer experience for less, it runs on just 1 watt of power.'
At CES last month, the company unveiled a take-anywhere thumbstick computer that left critics excited. Code named Project Ophelia and available by June, the device runs Google's Android operating system, connects to existing monitors and TVs via USB, and will cost "less than $100," Dell's Tarkan Maner told FoxNews.com.
Similar to Google's Chromebook, this "thumbtop" computer stores all of your content and programs or apps on the Internet (aka "the cloud" in tech talk). Keyboards, mice and speakers talk to the device wirelessly, and power is pulled from the monitor or TV. "Not only is Ophelia a modern computer experience for less, it runs on just 1 watt of power," Maner said excitedly, "a far cry from 300 watts consumed by most PCs."
It does all this without the need of a desktop, hard drive or power supply. But even though Dell is ostensibly demoting the role of the PC, they're not willing to admit it just yet.
"We're not killing the desktop," Maner said, "but new realities are moving us toward cloud devices, thin clients and other networked devices, in addition to PCs. Project Ophelia is just another platform or form factor, not a different experience."
The next great platform war is coming … to your wrist
As technology analyst Ben Bajarin of Creative Strategies puts it, "This is Dell moving toward a services company and taking a hardware agnostic view of the post-PC era."
Dell Inks $24.4B Takeover Deal
Struggling PC maker Dell (DELL) unveiled a $24.4 billion deal on Tuesday morning to be taken private by a group led by founder Michael Dell and private-equity firm Silver Lake Partners, marking the largest leveraged buyout since the financial crisis.
The deal, which includes a $2 billion loan from Microsoft, represents a big bet by Michael Dell and others that Dell can more quickly complete its transformation to a modern technology company away from the harsh lights of Wall Street.
But what IT nerds used to call "terminal computing" tried and largely failed before. In the '60s and '70s, the plan was to have users access mainframes and servers for their computing needs via "dummy" terminals; screens and keyboards that are useless when disconnected from a network of servers.
But the desktop revolution happened instead. And now the post-PC revolution is taking place. Could a return to old school terminal computing really work for Dell now, even though that strategy was previously supplanted by desktops?
You betcha, said Craig McBurnett of Lume Technologies, a firm that helps IT departments migrate to the cloud. "It's an entirely different game now," McBurnett told FoxNews.com. "Centralized or hosted computing has always been a viable option in select industries. Now it's available to everyone, thanks to cheap broadband, reliable networks and better servers."
Is your awesome new media room poisoning your family?
Adds Maner, "The cloud simply didn't exist during the desktop revolution." In other words, the Internet of computers is actually good enough now to realize centralized computing for everybody.
Which explains the timing and growing interest in Project Ophelia and other affordable Internet appliances. They give users everything they need while connecting to powerful servers, even if end devices like Chromebooks, tablets and Ophelia end up being "dumber" than the PCs they replace.
But even though Dell is distancing itself from PCs, they still understand the importance of personal technology. "Consumers matter," Maner said. "Unlike IBM, our consumer presence will continue because consumer technology impacts the enterprise, especially as workers are increasingly bringing their own devices to work."
Blake Snow is a writer and audience developer from Utah. He is writing his first book about finding offline balance in this crazy, wired world.