Downed Amazon Servers Leave Websites Across Internet Struggling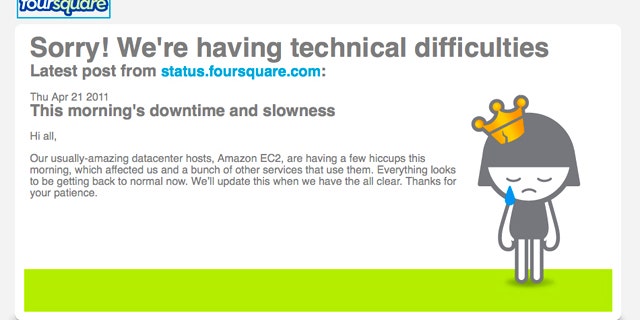 Ongoing issues with Amazon.com's web hosting service continue to plague major social networking websites across the Internet, frustrating millions of people who couldn't access their favorite web haunts.
Though better known for selling books, DVDs and other consumer goods, Amazon also rents out space on huge computer servers that run many websites and other online services. The problems -- widespread though varying in severity -- began Thursday at an Amazon data center near Dulles Airport outside Washington, D.C., and persisted Friday morning.
"We continue to make progress in restoring volumes but don't yet have an estimated time of recovery for the remainder of the affected volumes," reads the latest status update on the outage, posted to Amazon's service dashboard at 2:41 a.m. PT, (5:41 a.m. ET). The company also posted advice on how sites can work around the problem.
Popular link-sharing site Reddit, Internet-traffic monitor Chartbeat and other sites warned users that the ongoing issues were still affecting services.
"Reddit is in 'emergency mode' right now because Amazon is experiencing a degradation. They are working on it, but we are still waiting for them to get to our volumes," reads a warning on Reddit.
It's not uncommon for Internet services to become inaccessible due to technical problems, sometimes for hours or even days. But Thursday's outages were notable because Amazon's servers are so commonly used, meaning several sites went down at once.
Many Internet companies use Amazon Web Services, including Netflix, Zynga, Quora, Chartbeat, Reddit and so on, and many of them appeared to be unscathed. Amazon has at least one other major data center that stayed up, in California.
Amazon did not respond to requests for comment. It has not revealed how many companies use its Web services in total or how many were affected by the outage.
"There is no ETA at this time, but we are trying to work some magic and will very slowly be bringing the site back up. Please stand by," reads an outage notice at Reddit.