Digital Magazine Prototypes Flourish, but Reality Lags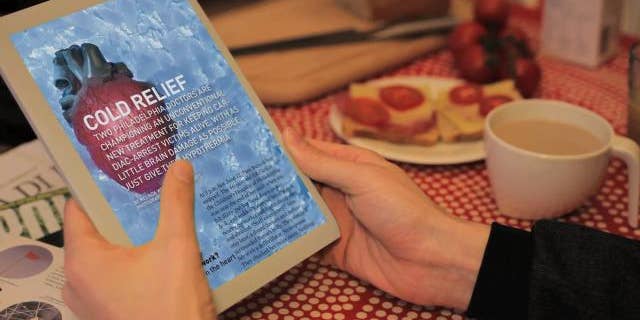 NEWYou can now listen to Fox News articles!
Just before Christmas, the publisher of Popular Science quietly unveiled a very neat video: the company's vision of the future of magazines. It's awesome. And it's nowhere near done.
Over the past year, the country's magazine and newspaper publishers have been scrambling to develop digital versions of their publications. On one thing everyone agrees: Some time very soon, digital magazines will arrive on thin tablets, potentially flexible devices that can wirelessly update themselves and store dozens or even hundreds of issues.
But without a common hardware platform or standard interface, these ideas are no more than prototypes, at least, for now.
Regarding the latest digital concept, Bonner Corp. explains that its purpose "is first and foremost to spark a discussion around the digital reading experience in general, and digital reading platforms in particular."
The company is quick to note that this is merely a demonstration, however: "It illustrates one possible vision for digital magazines in the near future, presented by our design partners at BERG."
The demonstration is certainly compelling, but how realistic is this future, and more important, how immediate?
A cornucopia of hardware platforms are competing even now to be the digital magazine platform of the future. Consumers are faced with a choice between the dizzying array of e-book readers on the market, such as the Amazon Kindle and the Barnes and Noble Nook, as well as emerging tablet concepts with such esoteric names as the Joo Joo (formerly the CrunchPad) and the Courier.
Meanwhile, there are increasing rumbles about a tablet device from Apple, rumors of a super-size iPhone-like gizmo that the company refuses to confirm or deny.
That wealth of choices is merely the hardware. The software remains undeveloped and uncertain as well, though tantalizing concepts like Bonner's flood the public's imagination. Sports Illustrated released a concept video at the beginning of December, for example, and Wired magazine unveiled its application in November.
The largest publishing companies aren't standing still. News Corp. (the parent company of Fox News), Time Warner, Conde Nast, Hearst and Meredith have recently a joint venture of their own. The aim is to create a common set of technology standards for how magazines and other publications look on e-readers and other digital devices, some of which haven't been invented yet.
The participants want to ensure they have a common standard for advertising and a digital "store" through which consumers can buy multiple publishers' titles, according to people familiar with the matter.
Standardization sounds like the only answer to the problem of competing technologies, but the problems may be more systemic than that. Many current digital publishing technologies rely upon the near ubiquitous Adobe Flash platform, and Adobe has faced challenges keeping pace with the range of new devices on the market.
The Flash platform isn't yet available for 64-bit computers, for example, a version of the operating system that's increasingly common. (Microsoft has made a 64-bit version of Windows since 2002, and Apple's Mac OS is entirely 64 bit.) Nor does Flash work on the iPhone, though Adobe has publicly stated that it plans to add support in the future.
No matter which of these devices succeeds, consumers are in for a bumpy ride. It's easy to picture a world in which a consumer needs to ask whether a particular magazine is compatible with a certain magazine reader. And if that's the case, it's easiest not to buy anything at all.