Can Snail Mail Prevail? U.K. Makes Digital Postage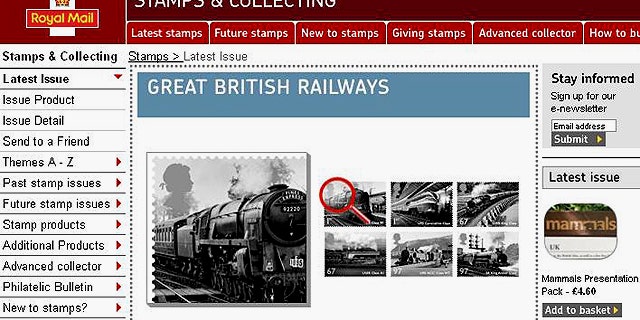 The U.K.'s Royal Mail has released the world's first intelligent stamps.
Adding a high-tech twist to traditional snail mail, hidden images in the new stamps are designed to interact with certain smartphones using a custom application.
The special-issue collection commemorates the 50th anniversary of British Rail's last steam train, the 9F Class "Evening Star." They feature special online content that users can access through Junaio, an image-recognition application available for download on both iPhone and Android handsets.
Photographing the stamps with the special software triggers a short film of English actor Bernard Cribbins reading W H Auden's "The Night Mail," a poem originally written for the 1936 documentary about the London-Glasgow postal train of the same name.
"This is the first time a national postal service has used this kind of technology on their stamps and we're very excited to be bringing intelligent stamps to the nation's post," a Royal Mail spokesman said in a statement. "Intelligent stamps mark the next step in the evolution of our stamps, bringing them firmly into the 21st century."
The technology is similar to the "QR codes" increasingly common in magazine advertisements; it uses a two-dimensional square barcode and relies on image-recognition software, a technique that has been used prominently across other industries such as manufacturing and advertising.
Italian painter Fabrice de Nola has embedded similar codes in paintings and photographs, and the technology was also used prominently throughout promotional materials for the Tim Burton film "9."
Read more at eWeek Europe.