Boeing: Growler Eclipses F-35's Stealth Advantage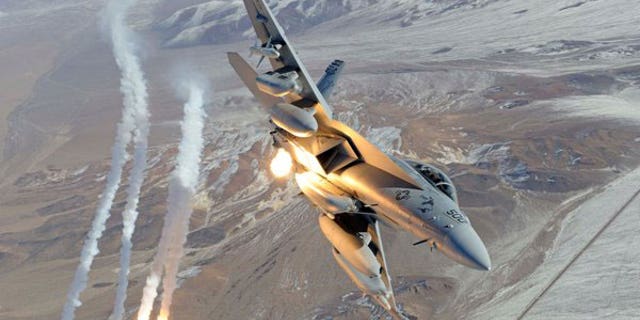 NATIONAL HARBOR, Md. – Boeing is touting the effectiveness of its fourth-generation EA-18G electronic attack plane over Lockheed Martin Corp.'s F-35 stealth fighter as the lobbying battle over attack aircraft heats up.
The world's largest aerospace company didn't waste any time making its case during the opening day of the Navy League's Sea-Air-Space conference here, saying the Growler is more equipped than the Joint Strike Fighter for operating in areas with sophisticated enemy air defenses, known in military parlance as anti-access, area-denial, or A2-AD, environments.
"Stealth is perishable; only a Growler provides full spectrum protection," states one of the slides in a briefing given by Mike Gibbons, vice president of F/A-18 and EA-18G programs for Boeing, in a not-so-subtle dig at the radar-evading, fifth-generation jet made by Lockheed Martin Corp.
Boeing is pressing lawmakers to add funding for 22 additional Growlers in the Defense Department's fiscal 2015 budget, which begins Oct. 1. As it stands, the budget plan doesn't include any money for the derivative of the F/A-18 fighter.
The company has already enlisted the support of Missouri Reps. Ann Wagner, a Republican, and Lacy Clay, a Democrat, in urging lawmakers to sign a letter asking leaders of the congressional defense committees to add some $2 billion in funding for the additional Growlers -- the same quantity the Navy included in its "unfunded priorities" list.
The aircraft, which is manufactured in Missouri, "is the only DoD option for electronic attack, and limited capacity significantly impacts mission effectiveness against current and future threats," the letter states.
If the funding for the aircraft isn't added to the budget, Boeing may have to shut down the production line, according to the letter. Such a move would hurt the industrial base and leave the Pentagon with only a single manufacturer of tactical aircraft, radar and engines, it states.
The company's presentation at the conference highlighted how the Growler is the only tactical aircraft slated to receive the Navy's next-generation jammer, an advanced airborne electronic warfare system designed to replace the AN/ALQ-99, as well as the only plane able to counter threats across the entire electromagnetic spectrum.
Indeed, one slide suggests the F-35 is equipped with technology to counter threats in the X band spectrum – and only when approaching a target in a direction of ingress.
A spokeswoman for the Pentagon's F-35 program office didn't immediately respond to a request for comment. But Lockheed Martin officials have already begun to push back.
"The stealth capabilities in the F-35 are unprecedented in military aviation," Michael Rein, a spokesman for the company, said in an e-mail. "Extensive analysis and flight test of the survivability of the F-35 with its combination of stealth, advanced sensors, data fusion, sophisticated countermeasures, and electronic attack demonstrate conclusively its superior advantages over earlier generation aircraft."
Lockheed's supporters in Congress, including Reps. Kay Granger, R-Texas, and John Larson, D-Conn., drafted a letter urging colleagues to support the Pentagon's request for $8.3 billion to buy 34 F-35s -- which they note is eight fewer than previously planned because of automatic budget cuts known as sequestration.
Their letter also points out that Russia is preparing to make its T-50 fighter available to the global market and the Chinese are investing heavily in the development of their own J-20 and J-31 fighters.
"These countries are also building and proliferating advanced surface-to-air missile systems that threaten to make our 4th Generation fighter fleet obsolete," it states. "These rapidly advancing threats around the globe make a strong case for increasing F-35 production, even in this resource constrained environment."
Boeing counters that stealth technologies work best in a limited band within the electromagnetic spectrum, and that modern threats are making stealth aircraft "detectable and vulnerable," according to its presentation at the conference.
"Increasing computing power, advanced sensors and evolving aircraft detection methods are degrading the benefits of stealth," it states.
Even if Boeing secures funding for 22 additional Growlers, the company may keep up the lobbying campaign. It cites analysis that shows the need for a total of 50 or 100 more EA-18Gs to meet joint and coalition requirements, according to the presentation.
Boeing's message is clearly having an impact on Capitol Hill. A spokesman for Wagner last week said the office had already received about two dozen signatures and was expecting even more. But it will need support from many more, including leaders of the defense committees.
-- Brendan McGarry can be reached at brendan.mcgarry@monster.com.