Biggest-ever British warship joins forces with most powerful American stealth fighter jets
Britain's largest-ever warship, the HMS Queen Elizabeth, is joining forces with the American-made most powerful stealth fighter jets in the world.
The ship is the first of the Queen Elizabeth (QE) Class aircraft carriers and is embarking on its very first transatlantic journey. The giant warship will arrive off the eastern coast of the United States where it will start the first flight trials with the fifth generation Lightning II Joint Strike fighter jets.
Three times the size of the Royal Navy's previous Invincible Class Aircraft Carriers, the HMS Queen Elizabeth is an approximately 65,000-ton, four-acre flight decked, mobile floating military platform which will allow America's steadfast ally to contribute even more power to future combat.
HMS Queen Elizabeth and the HMS Prince of Wales represent £6.2 billion worth of new, futuristic, state of the art, warships that this key ally can soon bring to the table should the need for joint-action arise.
With the HMS Queen Elizabeth, the British military will be able to bring even more aircraft to a situation and significantly boost the number of sorties.
EXCLUSIVE LOOK: F-35 STEALTH FIGHTER JET
The U.S. Marine Corps also flies the F-35B. As part of joint-action, U.S. Marine pilots and aircraft will be able to easily fly missions together from the HMS Queen Elizabeth.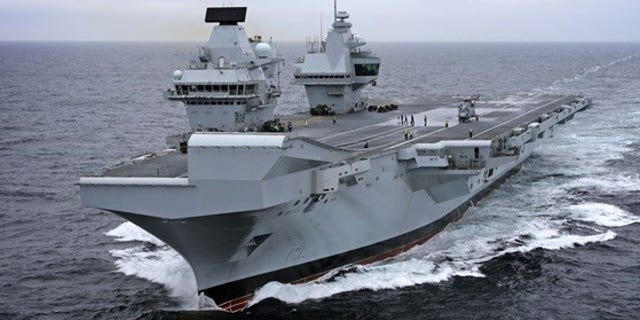 With the threat of adversaries with advanced technology looming, seamless, smart collaboration between allies like the combined might of the HMS Queen Elizabeth and the F-35 fighters is increasingly vital and urgent.
Giant warship, huge capabilities
Even though it is a giant warship, the Queen Elizabeth's design is so advanced it can be run with a surprisingly small crew compared to previous U.K. aircraft carriers. Take the weapons handling onboard, for example … this system is designed to move armaments to the flight deck six times faster than before while requiring only about a third of the crew. Overall, the HMS Queen Elizabeth carries a crew of 679 and embarked forces up to 921.
Month by month, the HMS Queen Elizabeth continues to rapidly expand the capabilities the warship can bring to the fight.
The carrier has already finished completed rotary wing trials with more than one thousand helicopter deck landings with Chinook Mk 5 helicopters and Merlin Mk 2s in all sorts of weather conditions.
NEW F-35A FIGHTER JET GETS A NEW POWERFUL BOMB
Royal Marine commandos have also already conducted amphibious warfare trials including an air assault from the HMS Queen Elizabeth.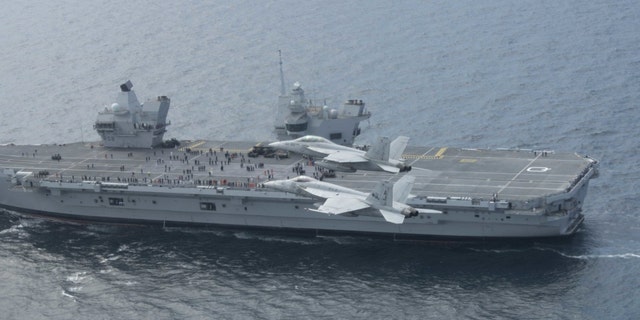 In 2014, lead ship HMS Queen Elizabeth first left her Scottish dockyard soon followed by the HMS Prince of Wales two weeks later.
Just four years later, the futuristic aircraft carrier has already conducted sea trials, been commissioned into the Royal Navy and now will integrate the most advanced fighter jets in the world further augmenting the power it can project.
Once HMS Queen Elizabeth reaches the United States the Royal Navy will be collaborating with the U.S. military to run the very first trials of F-35B carrier landings.
PODCAST: MEET THIS ALL-AMERICAN FARM BOY WHO BECAME AN ACE FIGHTER PILOT
What will the American-designed fighters provide?
The world's most powerful stealth fighter jet, the F-35 Lightning II Joint-Strike Fighter is a result of teamwork and astonishing innovation from a number of American companies with Lockheed Martin at the lead. These fighters have a slew of extremely advanced unprecedented capabilities. There are three variants and each provides its own unique advantages.
A CLOSE-UP LOOK AT THE F-35A, THE AIR FORCE'S NEXT-GEN JET
Incredibly fast, it flies at supersonic speeds of Mach 1.6. The situational awareness is truly remarkable. These fighters have astounding stealth, allowing them to penetrate deep into enemy territory and never be detected.
The British military has opted to buy and fly the F-35B variant also flown by the U.S. Marine Corps. The F-35B variant is just over 51 feet long with a wingspan of 35 feet. It has a combat radius of greater than 450 nautical miles. To give you a sense of the power, this fighter has a vertical thrust of 40,500 pounds.
These fighters are powerfully armed and able to carry 15,000 pounds of weapons. For example, they can carry extremely destructive and lethal weapons like two AIM-120C/D air-to-air missiles and two 1,000-pound GBU-32 JDAM guided bombs.
The British will fly the variant that provides short takeoff/vertical landing (STOVL), which is ideal for aircraft carriers. Even though the HMS Queen Elizabeth is 280 meters (919 feet) long, it is still very challenging to land one of the world's fastest fighters on aircraft carrier runways that are quite short compared to those available at bases – not to mention ocean conditions that create constantly shifting and unpredictably moving runways.
HOW F-35A FIGHTER PILOTS ARE HARNESSING HIGH-TECH 'SEE-THROUGH' HELMETS
The unique STOVL also provides the added advantage that both militaries will be able to land at rudimentary bases in war zones without proper runways.
Seems mind-boggling that such a powerful, supersonic speed fighter can also land vertically – sort of like a helicopter does- but it has been achieved. The F-35B has a very special shaft-driven lift fan propulsion system instead of a conventional direct-lift approach.
HMS Queen Elizabeth F-35B landing testing
A special approach to landing, called the "SRVL," is being developed for the Royal Navy to use for their fighters on the HMS Queen Elizabeth class carriers. Shipborne Rolling Vertical Landing uses both the vertical thrust from the jet engine and lift from the wings. The goal is for these rolling landings to enable the fighters to land on the HMS Queen Elizabeth carriers with a bigger weapon load as well as with more fuel.
PODCAST: WHAT'S THE SECRET TO ACHIEVING "TOP GUN"? FIND OUT FROM THIS FASCINATING TOP GUN PILOT
More exciting advances HMS Queen Elizabeth brings to the fight
The HMS Queen Elizabeth can reach speeds of 25 knots with a range of about 10,000 miles – but speed and range is nothing compared to the astonishing cutting-edge tech, advanced weaponry and powerful capabilities this floating military platform can bring anywhere in the world.
In addition to the fifth-generation fighter jets, the HMS Queen Elizabeth incorporates a wide array of other cutting-edge advances - including some more American-designed ones.
American Phalanx close-in weapon systems
Another American company's innovation found on the HMS Queen Elizabeth is the Raytheon Phalanx Close-In weapon system. There are three Phalanxes that can be used to shoot down aircraft, drones, swarming small attack boats and even incoming missiles as a last-ditch effort to protect the carrier.
NAVY TAPS RAYTHEON FOR SOPHISTICATED 'LAST CHANCE' GUN SYSTEM
American ultra-advanced landing system
To help pilots land, the HMS Queen Elizabeth uses the American-designed AN/SPN-41/41A Instrument Carrier Landing System that transmits flight path information to the aircraft as they approach the warship. In fact, the fighter pilots will be able to see this data in their incredibly futuristic head-up display. F-35 pilots wear astonishing helmets that even allow them to "see through" the floor of their aircraft straight through to the sea or ground below.
Thermal metal spray coating to protect it from jet blast
Jet blast temperatures can reach a staggering 2,700 degrees Fahrenheit. Picture the giant, powerful, fiery blasts aimed toward the deck as the fighters execute their vertical landings – it could very easily burn through multiple floors of a ship.
A remarkable thermal metal coating was developed to shield flight decks from jet blast and this has been sprayed on sections of the HMS Queen Elizabeth's flight deck.
When will it be up and running?
Ultimately, it is expected a total of 138 F-35B fighter jets will eventually join the British military. So far, they have fifteen of the current order for 48 aircraft.
Within a mere two years, the HMS Queen Elizabeth will reach carrier strike full operational capability with its first operational deployment expected the following year.