Betcha Didn't Know Bluetooth Could Do This!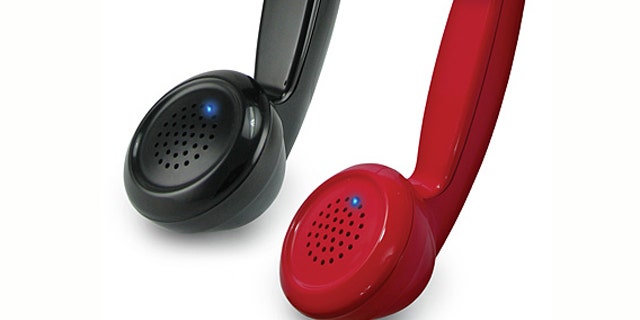 NEWYou can now listen to Fox News articles!
By now, just about anyone with a cell phone knows that Bluetooth wasn't a dreaded pirate, but most aren't too sure exactly what it is. It's that wireless thing that lets you hang a headset on your ear that makes you look either incredibly cool or like a cheap imitation of those Star Trek characters.
And many people aren't entirely sure how to place or answer a call using these headsets, or even adjust the volume. So if you're baffled by Bluetooth, know that you're not alone.
Bluetooth is a wireless standard, named for the 10th century Danish king who unified Denmark. It was originally intended as a replacement for computer connections, but rapidly found a home in cell phones.
It's a relatively low power system; a home wireless network can be effective at up to 300 feet, but Bluetooth devices typically need to be less than 30 feet apart. To make it work, you simply hold the two gadgets near so that they can discover each other and make a connection. (Sometimes you have to press a button or enter a code, but that's as difficult as it gets.)
It's definitely a personal connection technology, which is why it is used for those geeky-looking earpieces that almost nobody knows how to use. Here are some far cooler uses for the technology.
Give Me a Real Phone: Just because Bluetooth is a bit mysterious doesn't mean that you can't bend it to your will. For example, maybe you don't want to hang a hunk of metal off your ear to make phone calls.
How about using a big old telephone handset, like the ones hard-bitten reporters in black-and-white movies would grab and bark "Give me the City Desk! And hurry!" Well, you can get one just like that to work with your Bluetooth cell phone. A number of companies make them, including the one pictured from ThinkGeek, which offers them in traditional black or red.
Let's Ride! Okay, let's step this up a notch. Many cell phones not only can place and answer calls, they can also do helpful things like play your favorite music. (Many accept a memory card that you can load with your favorite MP3s, to let you listen while you're waiting for that next call.)
But it's inconvenient to hold your phone to your ear as you ride your bike or enjoy some other activity. Enter battery-powered speakers with Bluetooth support that will let you listen to music from your cell phone, as well as answer calls and hear the other person. The CyFi for Bluetooth speakers are water- and shock-resistant and will run up to 6 hours on a single battery charge.
Crank It Up!! Maybe you're not the outdoor type, or maybe you want a little more oomph than you'll get from battery-powered speakers. How about a full desktop stereo system? The NAO Symphony from Cignias looks like a typical desktop stereo iPod docking system, which is reasonable because it does have an iPod dock and a handy remote control.
The cool part is that it also can link to your cell phone using Bluetooth to play music from it. If you have a supported Blackberry or iPhone, you can also use a Wi-Fi connection between your phone and the NAO Symphony (either directly, or through a home network).
Don't Lose Your Keys: But wait, all these uses of Bluetooth are related to cell phones: placing and receiving calls, playing music, and so on. Let's make your phone do something really useful. How about preventing you from losing your keys or briefcase or laptop computer?
Your cell phone can even help with this, thanks to Bluetooth. Get the Nio from TenBu Technologies. The electronic fob looks a lot like the remote control for the power locks on many cars. You pair this with your cell phone, and then attach it to your keys or briefcase or whatever. If the two get separated by a certain distance, both the phone and the Nio fob will sound an alarm. (If you have more than one Nio, each can be set to make a different sound.)
If you have the fob with you -- in your pocket for example -- the alarm will sound if you leave your phone somewhere and walk too far away. The device does not support iPhone or Android phones at this time, however.