Apple's Steve Jobs Finds Suicides at Manufacturer "Troubling"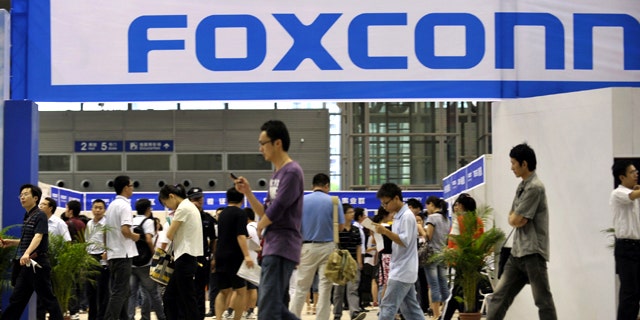 California -- Apple Inc Chief Executive Steve Jobs finds "troubling" a string of worker deaths at Foxconn, the contract manufacturer that assembles the company's iPhones and iPads, but said its factory in China "is not a sweatshop."
Jobs was making his first public comments about apparent employees' suicides at a complex operated by the unit of Hon Hai Precision Industry, which also counts Hewlett-Packard and Dell among its clients.
At this year's All Things Digital conference, an annual gathering of A-list technology and media executives in California, Jobs sniped at Adobe Systems Inc's "waning" Flash technology, vowed not to get into a search battle with Google, and waxed lyrical about the future of tablet PCs.
Jobs also talked about how he conceived the iPad even before the iPhone. Apple released the iPad in April and it has quickly defined the tablet computer market, selling more than 2 million units in the first 60 days.
But a string of deaths at Foxconn's base in southern China, which critics blame on stressful working conditions, threatens to cast a shadow over the device's success.
"It's a difficult situation," Jobs, dressed in his customary black turtleneck and jeans, said on stage. "We're trying to understand right now, before we go in and say we know the solution."
The iPad's momentum has helped drive share gains.
Apple last week overtook long-time nemesis Microsoft to become the world's largest technology company by market value -- an event unthinkable a decade ago -- and Apple's shares have spent much of 2010 hitting new highs.
Shares of Cupertino, California-based Apple rose 1.5 percent on Tuesday to end at $260.8 on the Nasdaq.
"For those of us that have been in the industry a long time, it's surreal. But it doesn't matter very much, it's not what's important," Jobs said. "It's not what makes you come to work every morning."
TOP DOG
Jobs has appeared at the event in previous years, but not since 2007. Much has changed for Apple -- and its helmsman -- in that period. A pancreatic cancer survivor, the company's founder underwent a liver transplant a year ago.
The company's growing clout and business ambitions have also increasingly put it at the center of several high-profile disputes and in the regulatory spotlight.
The U.S. Justice Department is making preliminary inquiries into whether Apple unfairly dominates the digital music market through its iTunes store, sources say.
Hostility between Apple and Adobe has been brewing for months. Apple has criticized Flash as a buggy battery hog, while Adobe has accused Apple of exerting tyrannical control over developers creating programs for the iPhone and iPad.
"We didn't start off to have a war with Flash or anything else. We just made a technical decision," he said.
Adobe's Flash multimedia technology allows video and interactive media on the Web
Jobs also addressed criticisms about Apple's decision to only offer the iPhone in the United States on the AT&T wireless network, which is often faulted for sluggish performance.
Without explicitly naming AT&T, Jobs acknowledged in response to a question that the network was having "troubles," but said he believed quality would improve.
"I'm convinced that any other network had you put this many iPhones on it would have had the same problems," he said.
Asked if there might be advantages to offering the iPhone in the U.S. on more than a single wireless carrier, Jobs said that there might be, but declined to provide further details.
Some tech blogs have speculated Verizon Wireless could soon offer the iPhone, which continues to be the standard-bearer in the smartphone market amid growing competition from handsets running Google's Android platform.
Apple is widely expected to unveil its newest iPhone next Monday, when Jobs delivers his keynote address at its developers conference in San Francisco.
Consumers may already have gotten a sneak peak of the next iPhone after a prototype, famously lost by an Apple employee at a bar earlier this year, was purchased and displayed online by a technology blog.
Jobs said there was debate about whether the phone was simply picked up after being left at the bar, or actually stolen out of the employee's bag.
"This is a story that's amazing," Jobs said. "It's got theft. It's got buying stolen property. It's got extortion. I'm sure there's sex in there somewhere. Somebody should make a movie out of this."